How Social Media Affects Your Creativity
Social media has become a part of our daily life. Although the debate about how social media may affect the quality of life, users of different social media have increased over time. Facebook users for example increased from 75 million to 600 million in the between 2008 and 2011. LinkedIn users increased from 20 million to 100 million in the same period. Social networks have become accessible by almost all out digital devices including computers, mobile phones, tablet devices, and wearable technology such as Google glasses and the Apple watch.
The debates concerning social media is repeated when there are continual new trends and technologies. While email service was invented by Ray Tomlinson in 1974, research presented by Archambault and Grudin during the Proceedings of the SIGCHI Conference on Human Factors in Computing Systems (2012) indicates that the service was not accepted by businesses and organizations until the late 1990s. At this time, there was debate that email service reduces productivity and many companies suggested it be removed and replaced by traditional correspondence methods.
Design and visual arts are part of the most favorable media shared on social networks. Sharing images and video content indicates higher engagements and exposure compared with text status on Facebook. Social networks that are based on visual arts and design such as Pinterest have proven success in the social market. Therefore, we should stop blaming ourselves for using our social media accounts as indulgent and start to look at social media from a different perspective to understand how to form this tool for the benefit for our creativity and fuel our talent.
The Pros of Using Social Media
Many articles blame social media to negatively affect creativity and reduce the designer's ability to create new ideas. Although social media websites may be seen as distractive from the main creative process, there are advantages of using the social media to serve creative people as following:
Source of Inspiration
Many social networks started to support different types of media including images, animated GIFs, videos and sound tracks. This extended support allows both designers and artists to explore new ideas and inspirations for their own projects. In the old days, we used to search in huge library of books to learn about specific design style. Joining a Facebook page or a Pinterest board lets one preview hundreds and even thousands of ideas and styles in less time and effort.
Specialized social media networks allows designers to connect with their peers to view content related to their interest. For example, Vimeo.com is a video social media network that is more specialized in artistic and professional video footages, unlike Youtube.com which contains generic videos and less inspirational smash-ups. Behance.net is another portfolio social network owned by Adobe Systems Inc. This social network is specialized for designers, artists, and photographers to share their work and get feedback as well as appreciation. Furthermore, the platform supports searching for jobs, which allows companies to search for talented designers on Behance as well. This extra advantage increases the benefit of the social network.
Learning and Expanding Knowledge
Many of the educational institutions and design bodies use different social networks to share their news and resources. Many students prefer to follow these bodies on social network websites because it is easier to reach and allow them to follow all the resources and projects directly from their Facebook, Twitter, or LinkedIn profiles.
Although there is debate in considering social media as source for academic learning, many scholars are starting to use social media to share their research papers and presentations such as researchgate.net, academia.edu, and slideshare.com.
Learning Groups
Social groups such as Facebook groups, LinkedIn groups, and Google Plus groups were built to gather people with the same interests to share ideas and collaborate together. Many students and designers have started to build learning groups based on schools, classes, and even specific courses. In these groups, students and designers use groups as method to learn, discuss assignments, and share projects together. The digital learning group replaced many of the local school learning groups because it allows students to communicate during travels or summer breaks.
Get Feedback and Criticism 
Social media such as Behance.net and Devientarts.com allows followers to add comments and give feedback on the presented artwork. Criticism and feedback are one of the essential learning resources of any designer to improve work based on others feedback. In other creative fields such as photography, feedback is very important for photographers to enhance their work. Photography social networks such as 500px.com and 1x.com allow a better feedback experience through displaying the photograph and camera specifications, also services like image background removal service help with an overall experience.
Promotional Tools
Social network websites have extended its role from sharing content to adding marketing and advertising methods. Designers use social networks to promote their work and services. Facebook pages provide a very effective method to promote services and project updates. The advertising feature in Facebook can be used to promote services among Facebook's huge base of users. Other social networks such as LinkedIn presents a business-wise platform, where users can add their resumes, projects, and apply for jobs.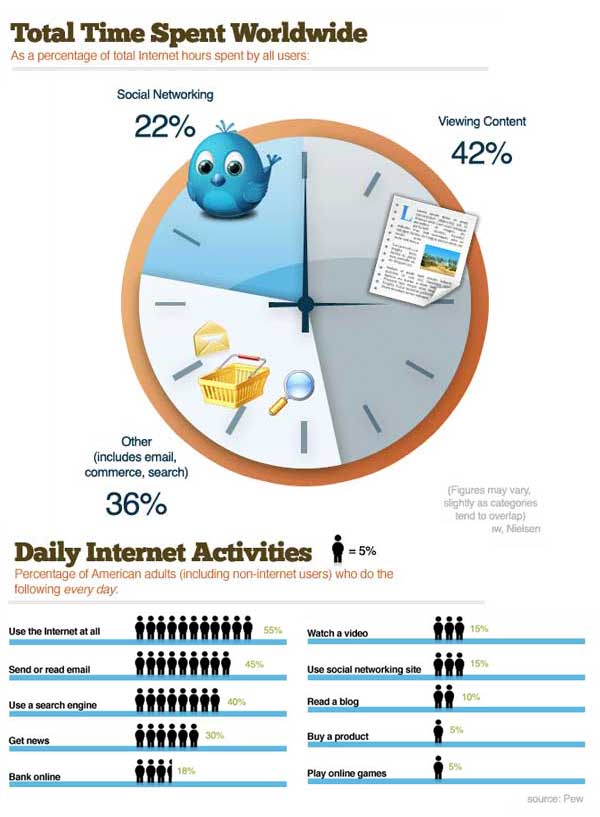 The Cons of Using Social Media
Although there are benefits as noted above, there is an agreement among experts that there are disadvantages of using social networks especially when many people become addicted to it while not engaging in any productive work or time. Below are some of the commonly highlighted disadvantages of using social networks:
Everyone is a Designer
All social networks allows users to upload artwork without any restrictions on the quality and the ownership of the original artwork. Everyone has the right to upload designs even if they are not worth the time for others to view and share. The result is that the good work get lost among all the other unqualified artworks. Good designers can't be spotted among the massive number of beginners.
This problem occurs in general interest social networks such as Facebook and Twitter. In specialized networks such as Behance.net, and 500px.com, there is a rating system that allows other professional designers or photographers to rate the artwork or promote it to be featured in the homepage. This system contributes to highlighting the creative artwork and bury the bad or unqualified submissions.
It is very important to choose the right social media to share your design work. For example, if you are sharing design work to get a professional profile and career opportunities, Behance.net can be the best social network to use. Also, make sure to submit your best ideas that reflect your talent and experience; think more about the quality of the work rather than the quantity.
Reducing Creativity
The massive number of shares and likes in social media distracts designers and artists from the real creative process. Instead of focusing on the production of the artwork, reviewing others' shares and artworks consume the time and the effort required to start your own project. While there are lots of inspirational resources on social media websites, there should be a balanced use for these websites.
In order to avoid these distractiond, focus your activities on a number of social networks that help you develop your design skills. Some applications allows you to view and share artwork from one simple interface such as hootsuite.com and buffer.com.
Intellectual Properties
Sharing copyrighted materials and stealing other's design ideas are among the important disadvantages of using social media websites. While you share your designs to get feedback or a possible business opportunity others can view the design and can either steal it or copy the idea without permissions.
Some social media website such as 500px.com disable the ability to copy or save images, other website provide section for the artwork copyrights such as flickr.com. It is important to understand the copyright issues related to your work and share creative artwork carefully through social media websites. Also, designers should choose the social network that help them copyright their work to avoid unauthorized reproduction and theft.
Losing Sense of a Real Life
Human beings are social creatures. Communicating between others and learning about other's thoughts may drive more ideas and inspire designers and artists to think with the end user or client in mind. Although the digital world allows you to meet with people from different countries, it prevents the real meaning of social communication. Human brains communicate better when two people talk face-to-face rather than using texting or chat applications.
In addition to social network website, make sure to keep your physical life active and running. Spending time with you friends and colleges in order to maintain the physical life style that helps you create new ideas.
Time Waste
Being addicted to social networks leads to significant time loss. Checking new updates and engaging with others all the time consumes your production and creative thinking time. The availability of social media on mobile devices contribute to this time loss as designers spend time to check their social media profiles on both the computer and mobile device multiple times during the day and sometimes during the same hour. Many companies block social media websites from their network in order to drive employees to focus on their daily tasks.
While it is helpful to communicate with others around the world and share experience, it is very important to limit these activities in order to focus during the design or project development. Some applications can be used to block the Internet or specific websites to help you to focus on more important tasks. Using applications such as hootsuite.com helps you to spend less time managing all your social profiles through one application.
Easy Access to Information
The value of spending effort in order to reach information gives it more value comparing with easy access information. People can easily google any question to find millions of results. Some of these results are credible while other results need to be investigated. Many designers and users share untrusted information through social networks with a simple click of a button. The culture of verifying information gets lost with the massive number of shares on different social media.
Designers should share information from trusted and credible website that share verifying information. If the information is not verified, it should not be shared on social networks. Much wrong information has spread through the Internet because the easy share feature while the content and credibility of the shared data is questionable.
Social Networking or No to Social Networking?
Based on the pros and cons above for using social media and its impact on creativity, designers should understand that social media is a very helpful tool that can be used to learn, find inspiration, communicate with other designers, share artwork, and find business opportunities. However, designers should use social media website carefully to avoid the disadvantages. Based on the criteria discussed above, below are some of the tips that help you get the most out of the social media as a tool for designers:
Limit usage time to avoid affecting production time
Use social networks that relate to your design interest such as Behance, Pinterest, and Deviantarts
Share your best work to represent your self and make sure to check the copyright issues –use social websites that try to secure your work such as Flikr and Behance
Do not lose your physical life and try to meet with your friends from time to time
Use social networks as a learning method and privilege the learning features such as groups
Use social networks as a tool to build a professional profile and promote it through other networks. For example create your profile on Behance and share it using your Facebook profile.
The above tips can help you reduce the disadvantages of using social media websites and increase the benefits that can be acquired from them.