Why Digital Healthcare Innovation is Important
Digital healthcare innovation is an opportunity for the healthcare systems to overcome many of the challenges that face this sector in both developed and underdeveloped countries–think about the long waiting lists and the quality of the provided service. as we explored in Four Reasons to Expand Mobile Technology Usage in Medical Innovation business models, we still find that the healthcare innovation is a slow and challenging process.
Digital healthcare innovation is an extensive umbrella that includes different types of innovation business models in healthcare organisations, such as offering, pharmaceutical, service, technological, and others. To the patients, medical innovation can provide a potential solution for the long waiting lists, improving the patient relationship with the healthcare system and improve patient experience, which could be achieved through applying design thinking in healthcare to get insights about patients' problems, discovery of new ideas, and use them to drive innovation and business models through the digital transformation for improved patient outcomes.
Related articles:
Four Reasons to Expand Mobile Technology Usage in Medical Innovation
Types of Innovation and How to Utilize Them
Co-Creation: Placing the Consumer in the Heart of the Open Innovation Process
In this article, medical innovation business models in healthcare is considered from the perspective of patient empowerment, which allows the patient to take control of their health and treatment to solve the current challenges facing the healthcare systems. To this end, below are five reasons that healthcare bodies should adopt patient-centric innovative solutions.
Digital Healthcare Innovation for Patient Empowerment
Patient empowerment refers to involving patients in decision-making and the treatment process related to their medical conditions. It can take different levels starting from contributing to choosing the treatment with the doctors (concordance) or diagnosis process that is entirely or partly administrated by patients. Innovation in health care allows patients to become less dependent on clinical professionals and be able to tailor their healthcare practice based on their needs and daily routines. A good example is changing the daily diet and exercise for diabetic patients. Mobile applications can now provide complete, tailored courses that help patients to change their life behaviour.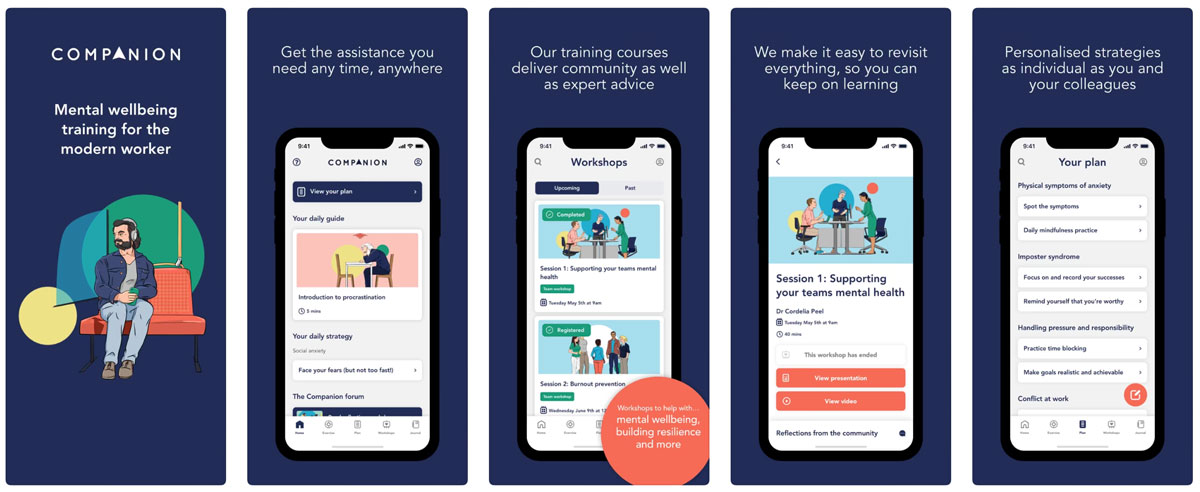 Another example is patients with stress, anxiety, and depression. The increasing number of patients (especially teens) with mental health problems becomes a critical issue, especially when the patients need to wait for months to be referred to a psychiatric clinician. Mobile apps like Companion can help patients with anxiety, stress, and depression to have more control over their emotional problems through simple daily exercises. The application can help healthcare organisations working in mental health the provide solutions for their long lists of patients.
The below video shows a case study from the Australian Digital Health Agency about the application of digital health innovation in empowering patients:
Reduce the Clinical Admission
Lack of healthcare resources for different healthcare providers persists as one of the challenging problems that face the majority of the healthcare system and healthcare delivery in the world. While the top healthcare service becomes more and more inclusive, the burden increases on the individuals working in the sector. As a result, patients are asked to wait for a long time until they have access to the service. Many of the clinical appointments are for monitoring and follow-up. Digital healthcare innovation has opened the door for different solutions that can be used to monitor and meet patients remotely.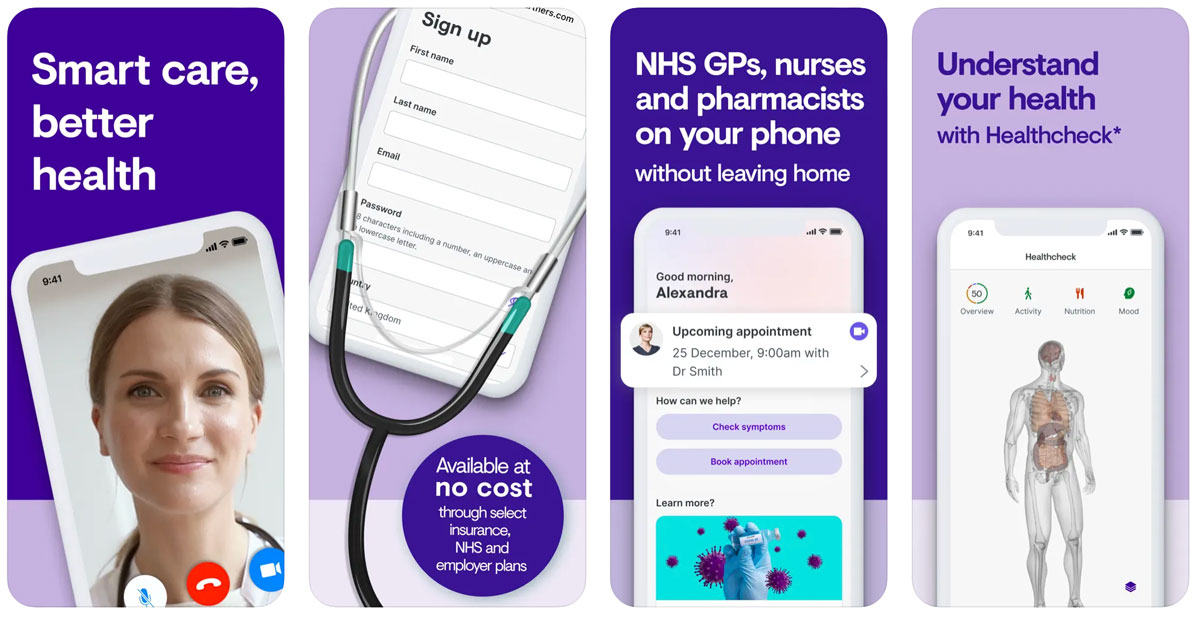 Babylon (GP at Hand) is one example business models that use a Telehealth application for healthcare deliverythrough allowing patients to talk to their GP using audio and video in minutes 24/7. Monitoring devices can also share data about patients' blood pressure and heart rates with their doctors so they can monitor the patient's condition without asking the patient to book multiple appointments. Telehealth can be as efficient as patient visits as it facilitates the doctors' ability to get patients' data 24/7, which is crucial in some cases, such as unpredictable blood pressure levels. The heart Rate app is an excellent example as it allows patients to take their heart rate readings through mobile and share it with their doctors.
Overcome the Lack of Staff
The lack of healthcare professionals (doctors/nurses) in the healthcare sector is probably a leading cause of all other problems. Preparing the team with the skills needed to work in this critical field takes a long time. Many appointments are held to discuss issues that don't require high skills, such as asking for a repeat prescription.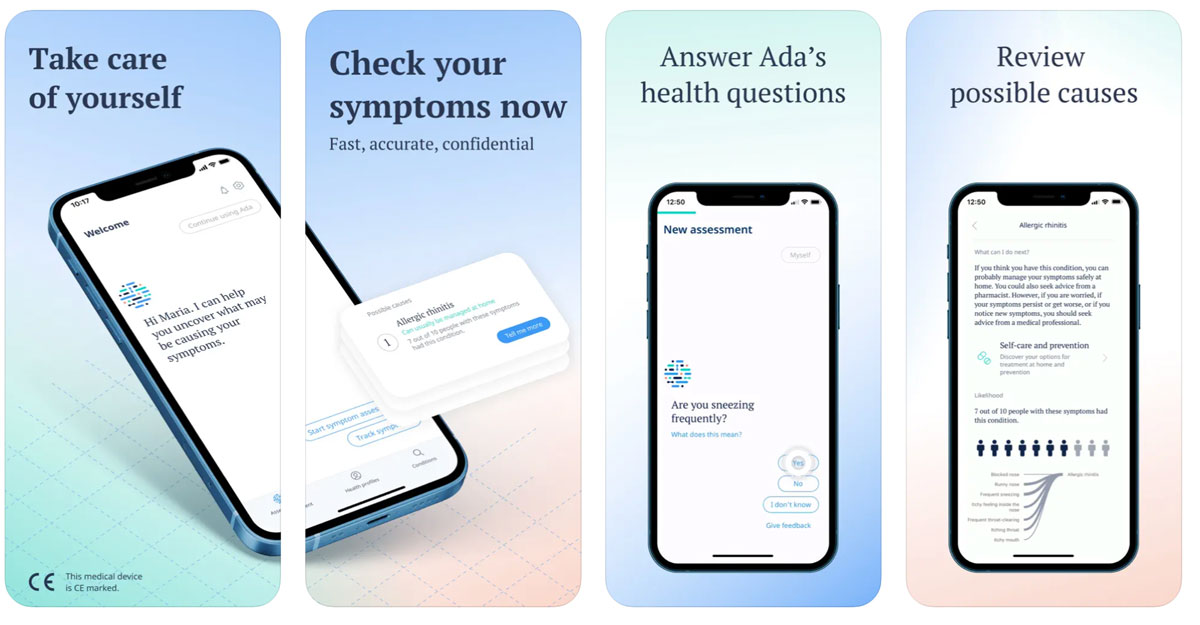 Artificial Intelligence (AI) applications extended the ability to get medical advice by using AI bots. While there is a lot of debate about using AI in medical applications. Getting information about specific symptoms can save both the patient and clinician time. Ada is a mobile app that asks you a couple of questions,, and based on it, the app starts to search the database for the possible causes of these symptoms.  
The below documentary from the DW (German broadcast channel) about the application of AI in healthcare technology:
Digital health Apps for Non-Invasive Interventions
Type two diabetes is one of from the major chronic diseases that lead to significant detonation in health, causing different complications that require invasive interventions such as Insulin injections and eye laser treatments. Without an effective self-administered health management system and healthcare delivery, patients can be at risk of different complications. Several solutions are available in the market that allows patients to self-manage their health, and diet, and monitor their diabetes condition. The ability to self-manage diabetes condition has extended benefits as it reduces the clinical visits, required staff, medical interventions, and to improve the health outcomes. An example of digital health application is MySugr, a mobile application to manage Type I and Type II diabetes. It provides health plan for patients to count their carbs, and glucose tracking, build insightful reports to be reviewed by doctors and provide challenges to help patients to adherence to the diabetes management programme. The digital health app can be used idividually or through different healthcare organisations.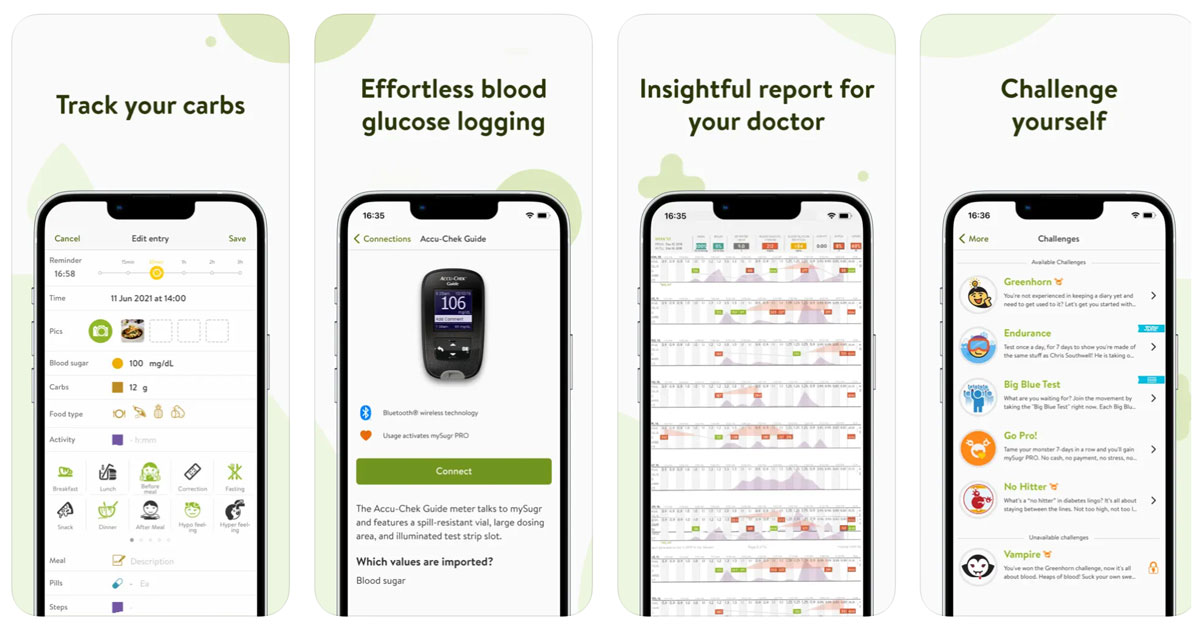 Avoid the Missing Appointments
Due to the lack of staff, the number of appointments per clinic is limited, and doctors are are only able to take a certain number of appointments per day. However, some patients don't appear on time, miss appointments due to different factors, and forget the date. This problem reduces the real number of patients that are seen by the doctor while other patients are waiting disparately for an appointment.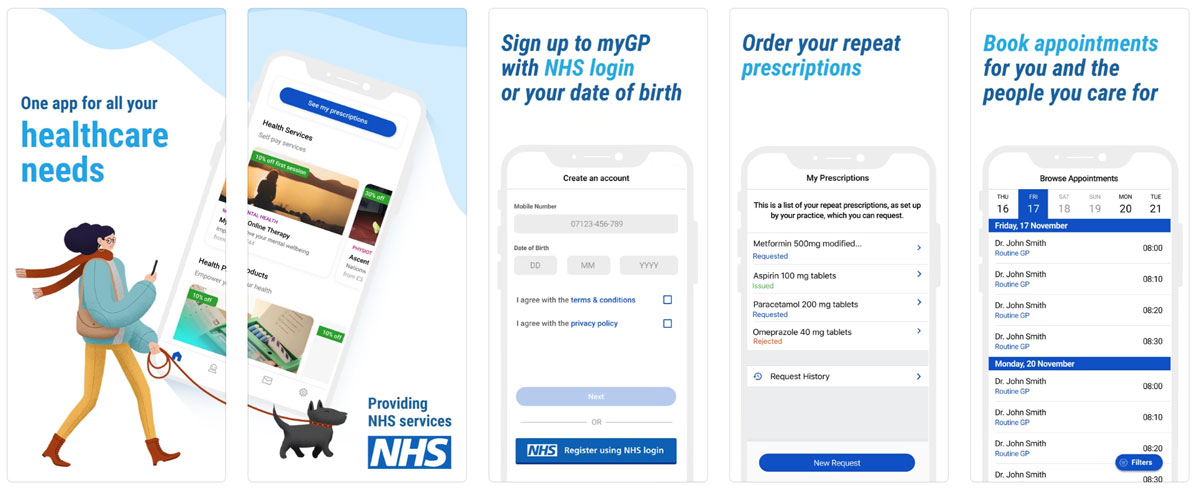 MyGP is an app that lets you book appointments, order prescriptions, and gets reminders on your mobile phone. This application can help patients to keep details of their future appointments, reminds them of their next visit, or repeat prescription. 
The health systems and healthcare organisations can overcome many of the challenges that stand against achieving the sector's goals for its patients. The above examples provide solutions that can help to reduce the long waiting lists and missing appointments and provide an alternative for invasive interventions. Furthermore, the digital healthcare innovation may contribute to transforming the healthcare system toward a more patient concordance model that empowers patients to take part in the treatment or diagnosis practice.
The application of methods such as design thinking can help us shift our mindset toward new innovations in the healthcare industry through adopting new digital healthcare business models to ensure better health through new technologies and collaborations.
Key Summary:
What are the benefits of applying digital healthcare innovation?
Drives patient empowerment and self-administration
Reduce the clinical admission and GP appointments
Overcome the lack of clinical staff
Find non-invasive interventions
Avoid the missing appointments