Zaha Hadid to Implement 3D Printing Technology in Print on Demand Designs
It seems like 3D printing technology is trending in a new direction with the designs of some of the world's most acknowledged designers, such as Zaha Hadid, Francis Bitoni, Alvin Huang, and others. Unlike the ordinary production process, additive manufacturing technologies enable designers to 3D print their designs from anywhere around the world as long as there is a good 3D printer at hand.
The Association for Computer Aided Design in Architecture (ACADIA) has exhibited at its annual conference this year a unique collaboration between the 3D printing company Starta and a number of designers, including Zaha Hadid, Alvin Huang, Francis Bitonti, Jose Sanchez, and Jenny Wu, that created 3D-printed products that can be printed on demand.
The 3D-printed products included furniture, fashion, and interactive game products that were printed using multiple materials. The printer that was used in these products was the Objet500 Connex3, which supports printing with multiple colors and opacities.
Zaha Hadid's contribution to the exhibition was her chair design. While the featured chair design was created using the Objet500 Connex3 printer, it can be processed on any other e-printer that has the same capabilities, such as printing using different materials.
Another chair design was created by architect Alvin Huang of Los Angeles studio Synthesis Design. In addition to using different materials, the new design uses different textures and opacity levels. Huang describes the 3D printing technology this way: "3D printing has great potential to revolutionize the design industry. In the past, the focus has predominantly been on rapid prototyping, but the shift towards rapid manufacturing is imminent."
Alvin Huang describes the design of his Durotaxis chair as having different thicknesses and distributing the thin and soft parts throughout the form to serve its function while making it more comfortable, building a solid relationship between the form and the function. Implementing this distribution of material properties was impossible without 3D printing technology.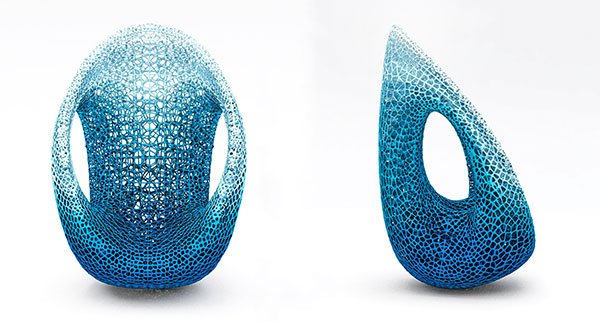 The fashion design was presented using Molecule shoes by New York-based fashion designer Francis Bitonti and necklace designs by Jenny Wu and Jose Sanchez. Francis Bitonti's shoe design utilized a mathematical model and printed using multiple rainbow colors.
The exhibition highlighted a new shift in 3D printing technology from a rapid prototyping technology to a production model that can take advantage of the print-on-demand capacities that 3D printing can provide. All the consumer needs to do is order a specific product design, and the dealer can simply print it without the need for adding shipping costs nor worrying about the product's availability in warehouses.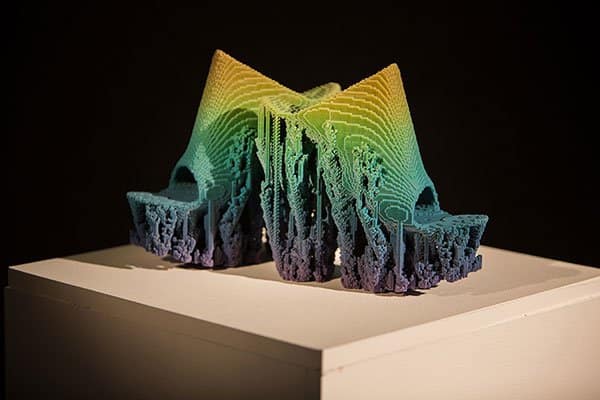 Although there are still some obstacles to applying 3D printing for commercial production, such as the cost of the materials and the availability of the proper printer, designers like Alvin Huang used the extended capabilities of printing with different thicknesses and opacity levels to build new designs that were not possible in previous production tools.