Critical Thinking as a Catalyst of Change in Design
In almost every design project, we find ourselves trapped in a number of mindset obstacles that stands between us and building an innovative outcome. These barriers include presumptions, biased ideas, and limited understanding of the consumer's needs. Applying the critical thinking may help us to escape these barriers toward innovative solutions and products.
The critical thinking is a simple yet powerful method to address problems, explore ideas, and understand situations by collecting information about the problem, analyzing it, and build a prototype for solutions to be tested and evaluated. The selected ideas can then be transformed into a final product or service. This process aims achieve three main goals 1) avoid biased solutions, 2) extend the choices of ideas through exploring new dimensions for the problem, and 2) focus on the consumer's need through building a deep research for the user and his experience.
Related articles:
Critical Thinking and Design Thinking
Previously, we covered the different design thinking models. Based on the different models, we can observe a similarity between the different stages in both the design thinking and critical thinking processes regardless the naming of each stage. In the critical thinking definition by the National Council for Excellence in Critical Thinking, 6 steps were highlighted;" Critical thinking is the intellectually disciplined process of actively and skillfully conceptualizing, applying, analyzing, synthesizing, and/or evaluating information gathered from, or generated by, observation, experience, reflection, reasoning, or communication, as a guide to belief and action.".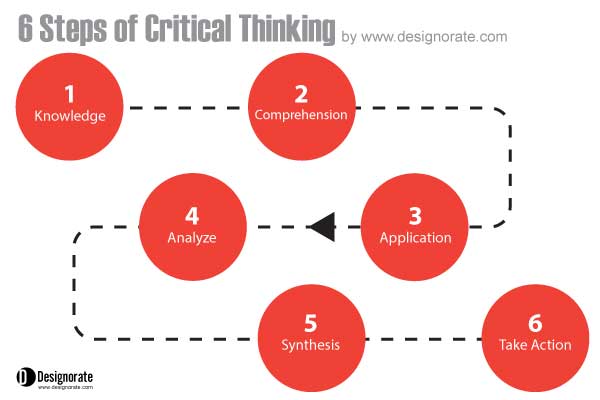 My previous article, 6 Steps for Effective Critical Thinking, covered these steps in details (see the figure above). However, these steps can be summarized in three main phases:
Observe – This is the research phase where we seek information (knowledge). It can include different research methods including the field studies, card sorting, and persona empathy mapping
Question – This stage includes comprehending the collected data, analyzing, and evaluating ideas to form the final prototype for the solution
Answer – In the last stage, the final solution is formed and ready to use. this solution can be a product, a service, or an answer for specific situation depending on the initial challenge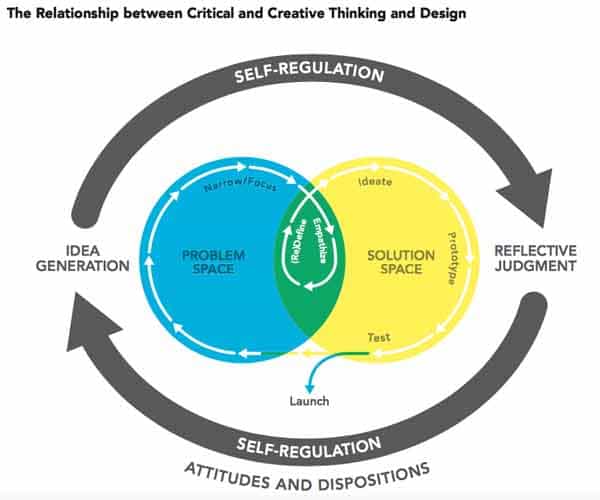 In the Critical and Creative Thinking by Design guide published by the Institute for Creativity, Arts, and Technology in VirginiaTech University, the diagram above (Baum-Combs, Cennamo, & Newbill, 2009) shows the relation between critical thinking, creative thinking, and design thinking processes and they intersect together during the developing process.
What Kind of Change can the Critical Thinking do?
As we have seen above, the critical thinking shares the core idea with the design thinking and creative process. So, how can the critical thinning alter our mindset in order to achieve innovative solutions?
Use Critical Thinking to Avoid Biased Thoughts
One of the hinders of achieving innovative ideas is being biased toward specific idea or solution. This prevents us from seeing the potential in other available solutions. Sometimes the biased thoughts lead us to failure instead of success because it is not based on a rational thinking and an equal analysis for all the options. The critical thinking process forces us to put any biased thoughts aside and focus on building knowledge, analyzing choices, and evaluating different ideas to select the most suitable one.
Use Critical Thinking to Unleashes Hidden Ideas
The first research phase (Observe) in the critical thinking helps us to escape the limited choices we have. Learning more about the situation helps us to see it from different perspectives and build a clear understanding of it, which helps us to explore new ideas that may contribute to solving the problem in hand. During this stage, a number of tools can be used to explore ideas such as the mind mapping, reversed brainstorming, TRIZ method, and Disney's Creative Strategy.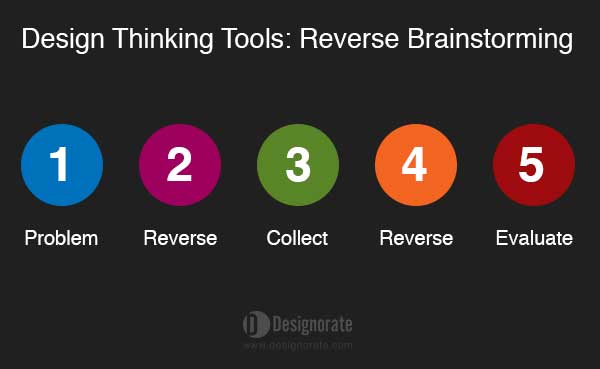 Use Critical Thinking to Understand your Consumer
Another barrier that stands behind us and achieving innovation is the lack of understanding the consumer's needs and emotional experience when it comes to using a product or service. This may end to a solution that doesn't quite fit the user's needs. The research phase (Observe) includes building understanding about the consumer and his experience using tools such as the empathy persona mapping, consumer journey map, and task analysis grid. Which helps us to learn in-depth insights about the consumer. The evaluation phase (Question) allows us to evaluate different solutions and make sure it fits well with the user's needs using different tools such as the SWOT Analysis and SCAMPER method.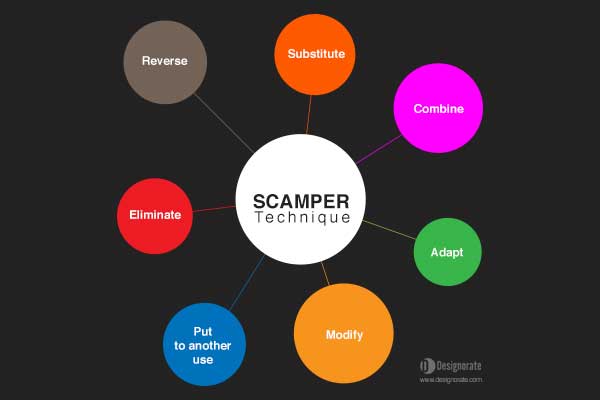 The critical thinking is a generic method of thinking that can be applied in different places such as finding solutions for problems, creating a new product or service, and explore situations. The critical thinking is at the core of the design thinking process, it can help us to achieve an innovative change by eliminating the hinders of innovation during our search for new ideas. The critical thinking can help us to avoid biased thoughts, presumptions, and focus more on the consumer's needs.
References
Baum-Combs, L., Cennamo, K. S., & Newbill, P. L. (2009). Developing critical and creative thinkers: Toward a conceptual model of creative and critical thinking processes. Educational Technology, 49(5), 3-14.