13 Online Design Thinking Tools for Mind Mapping
Design thinking tools provide us with the opportunity to explore ideas through their different elements and components, which can lead to developing creative solutions for problems. Mind maps are one of these methods that follow our primary research. After researching the problem, we bring all the related elements and start to see the problem from the perspective of these elements. However, it is hard to visualise the elements and the connections between them in our minds or through documentation as we are visual creatures. 
Mind Mapping is one of the common design thinking tools for exploring problem elements and building connections between relevant elements. Mind Mapping depends on building a visual map from the available information to create links between what is related. This visual linkage helps designers to relate seemingly different information and reflect on the results with new possible solutions.
Don't forget to download: Designorate Mind Map Template
Read also:
Types of Design Thinking Tools for Brainstorming
Mind mapping usually starts with the main idea. It then expands to more ideas which are extended more ideas in a tree-like expansion. Our previous article How to Use Mind Mapping for Better Thinking provides a step-by-step practice for building mind maps. Different tools can be used in mind mapping, such as:
Use sticky notes on a whiteboard and draw links between ideas using erasable markers. This tool is commonly used inside companies and schools.

Draw the mind map using paper and coloured pens. This tool allows the designer to be creative and build innovative, even three-dimensional, mind maps.

Use mind map templates to write out your ideas. While this tool is not flexible, our 

Designorate Mind Map Template

 tends to solve this problem by providing several shapes and connectors that can be downloaded, printed, and used during design thinking sessions.

Online and software tools allow designers to visualise ideas through several digital tools and featur
Pros and Cons of the Online Brainstorming Tools
During the Covid-19 pandemic, online tools played a crucial role in sharing ideas and brainstorming. The lockdown prevented us from meeting and sharing ideas in design education or professional practice. Another advantage of the design thinking tools is their flexibility, especially in remote work. It reduces the cost of commuting to the meeting place and overcomes many time barriers, especially when the team is meeting virtually from different countries. The disadvantage of using online tools is missing the physical and sensory experience. As we see more than words, we explore expressions, feelings, and the ability to reflect on our previous practice, which can be limited tools.
Design Thinking Tools: Mind Mapping and Brainstorming
Several mind mapping tools can be used to explore ideas. Some are free, and others have a free account with limited features such as a limited number of projects and export options. The below list includes 13 design thinking for mind mapping:
Mural is an online tool for several activities, including mind mapping, affinity diagrams, business model canvas, and consumer journey mapping. When you can use the virtual sticky notes, you can build mind maps and grant access to your team members to access the board and add their ideas. The free account allows you to create a limited number of boards, share them, and download them in a limited format (JPG). Mural provides full access to academic emails for students and academics, allowing students to log in through their universities' login pages.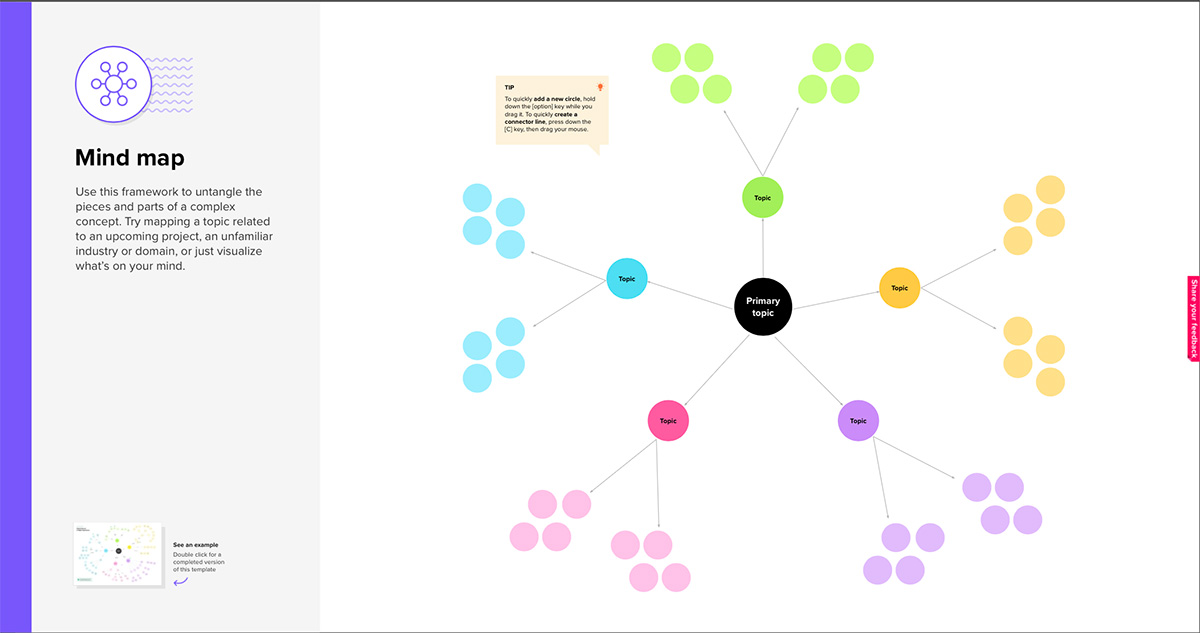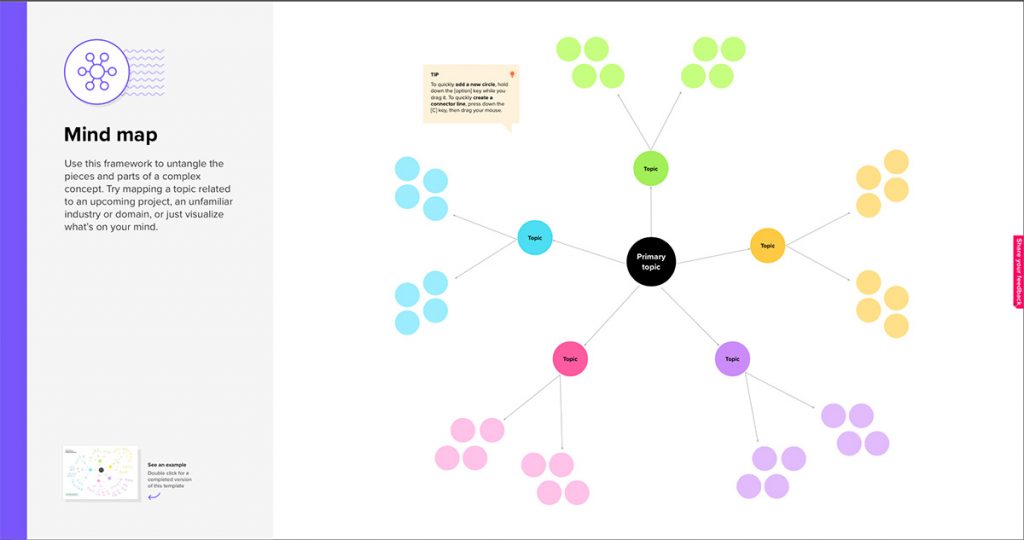 Miro is very similar to Mural in terms of features and user interface. The connection between different sticky notes is much more user-friendly in Miro. However, Miro focuses on brainstorming and related maps compared to business tools. Miro also has free access to students and academics.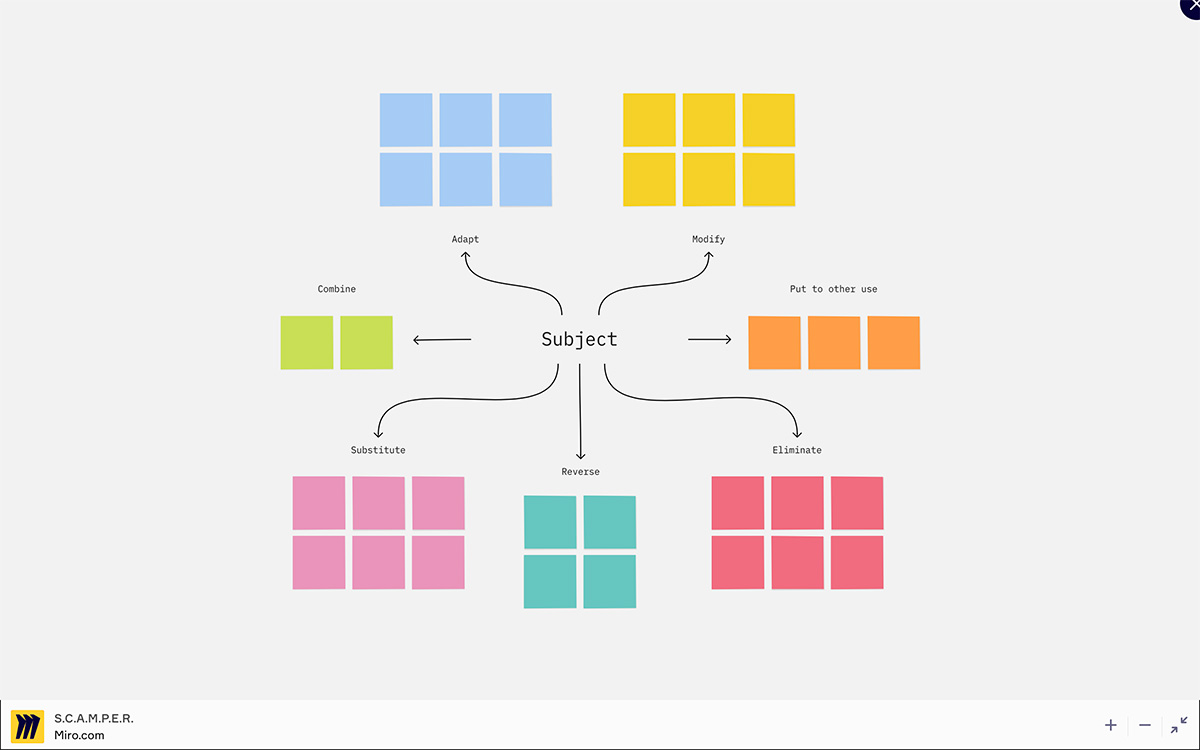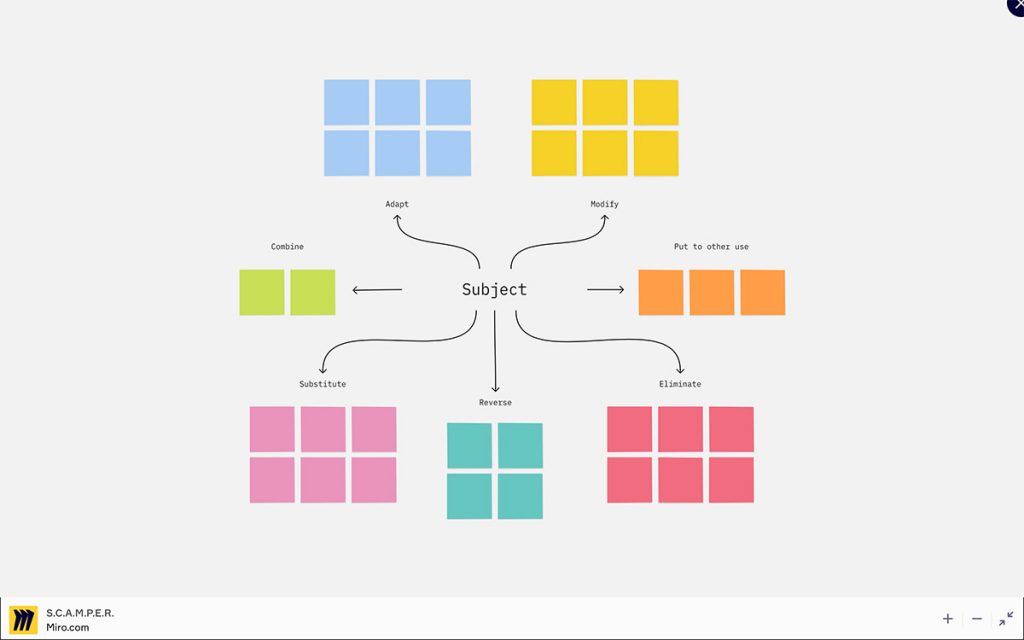 Milanote is another design thinking tool. There are several similarities between Milanote and both Miro and Mural. The advantage of Milanote is the folders that can include intersected boards. This structure allows you to create boards inside each other for better work organisation.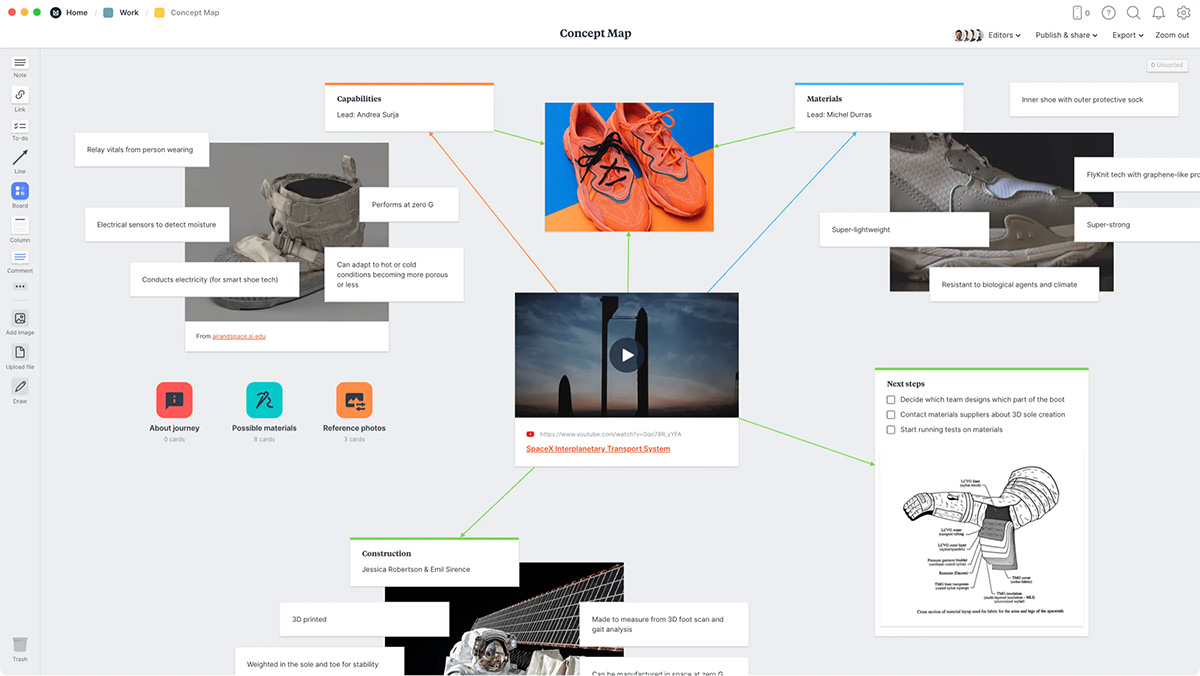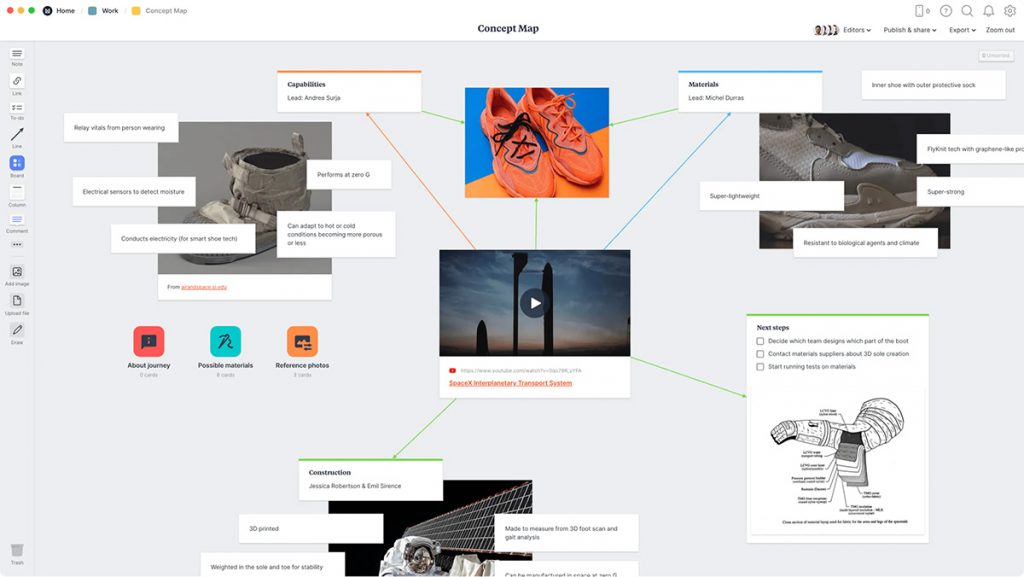 This tool was developed by Tony Buzan, the founder of the term "mind maps." It is web-based and provides templates for idea blocs, branches, and shapes that can be customised using different colours and preset options. It can even be used to create an animated presentation of the mind map sessions. The application is supported with a tablet and mobile version for iOS and Android and uses the cloud service. Your mind maps can be synced with all your devices, so you can easily view and edit any saved mind map from any device. The home and student version of the iMindMap is around $100, and the professional Ultimate package is $310.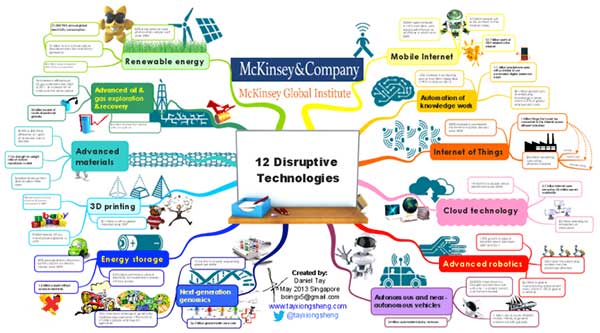 SpiderScribe is a mind mapping tool with administrative features like connecting notes with calendar events. The cloud services sync between the web-based account and other devices such as iPhones and iPads. The price for this tool ranges between $5 and $25 per month based on each package feature.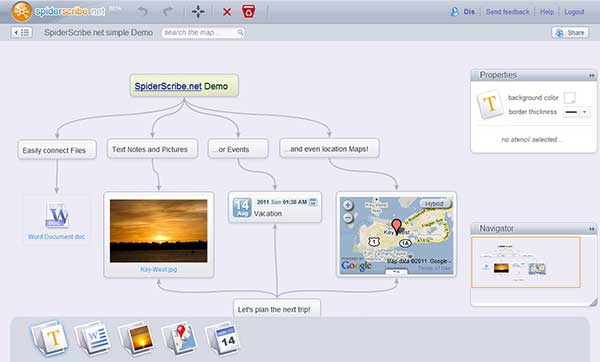 XMind is remarkable with its clear design and easy-to-use interface. The tool supports many templates and shapes used when drawing the mind map. Furthermore, it supports saving mind maps to Evernote for presenting and sharing them with your team. XMind is available in both a free and paid pro version. The free version has limited features but allows you to create all kinds of mind maps, save them to Evernote, and share them online. The pricing for the pro version ranges between $79 to $129.
Coggle is a simple mind mapping tool that can be used through a web browser, though it does not include sophisticated features compared to other tools. Coggle allows you to draw Mind Maps, take notes, and share your visualised ideas with your team. There are two software versions, a free version and a paid version for $5 per month for individuals and $8 per month for organisations.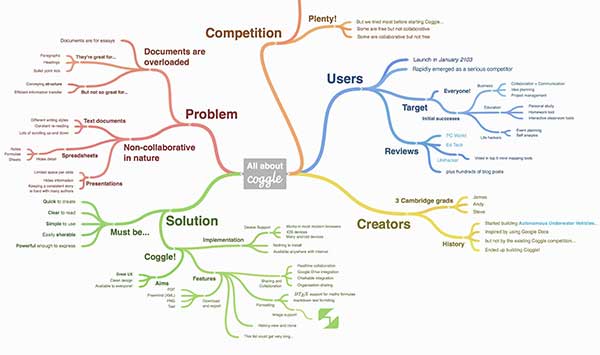 Text2MindMap is an online Mind Mapping tool that does not require logging in or creating an account. It is a straightforward tool for creating mind maps. The tree of ideas is written in text format, and the tool starts to build the idea branches based on this text.
Mindmeister is a mind mapping tool and collaborative tool for teamwork. Its simple interface allows quick mind maps and easily embeds interactive maps in websites. MindMeister also includes task management features and the ability to export mind maps to different formats, including PDF and MS Word. It is supported on both iOS and Android devices. Mindmeister is available for free with a limit of 3 mind maps. The paid versions range between $36 and $90 for six months.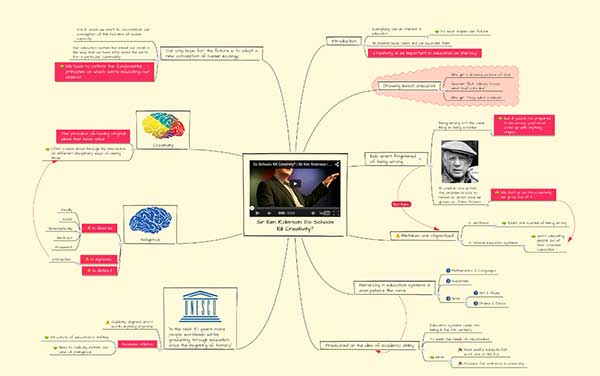 WiseMapping is a free online tool that can be used for both personal and commercial projects. It is easy to use and run through any web browser without a plugin requirement. It supports basic features and includes the option to import and export mind maps.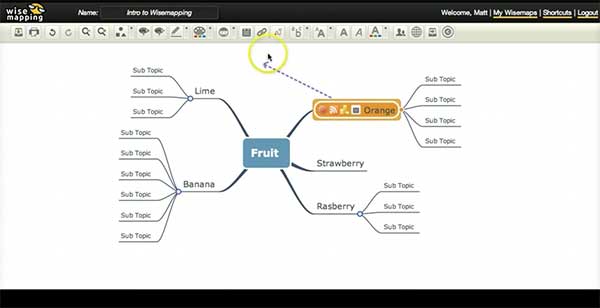 Poppet is a web-based iPad Mind mapping tool. The iPad application costs around $4.99 and is designed for both companies and schools to teach students a method of brainstorming. In addition to the mind map features, it includes other tools such as diagrams, process charts, mood boards, scrapbooks, and travel plans.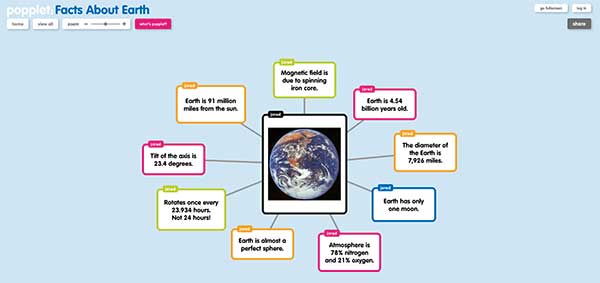 MindMap is an extension that can be installed in the Chrome browser, and it provides a free and easy tool to build mind maps. The created mind maps can be saved on your local computer or in the cloud; they can also be printed and exported as images.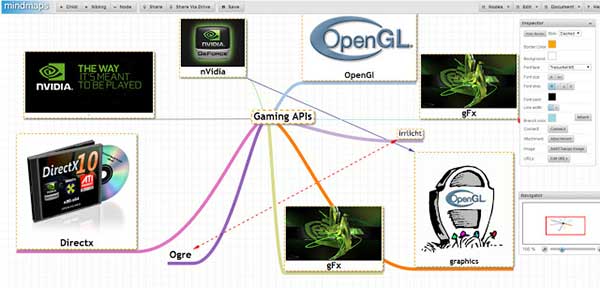 Bubble is a mind mapping website that is free with a limit of three mind maps or a monthly payment of $6. The tool is straightforward, with an iOS version installed from App Store.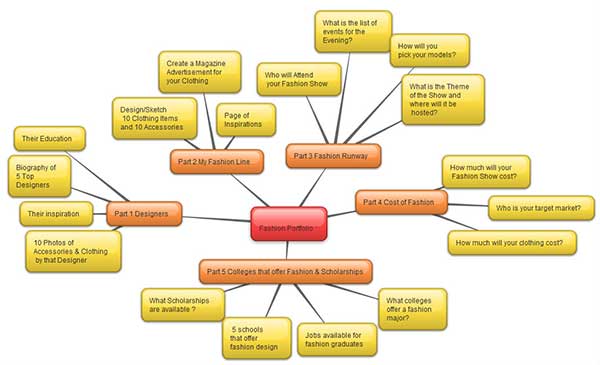 Conclusion
Mind mapping is a powerful method to explore ideas and build connections based on discussion and reflective practice. The Covid pandemic presented a barrier for many to work physically together. Other obstacles can face physical meetings and brainstorming, such as the travel costs, time limitations, and team location. Therefore, online design thinking tools can provide an effective solution that helps teams brainstorm ideas and build mind maps using several mind mapping applications and websites. Although the physical brainstorming meetings have sensory and collaborative interaction, the online tools can provide a replacement for the physical brainstorming when it isn't viable to meet physically. 
The online design thinking tools help you create mind maps, share them with the team, and get feedback. These tools usually have a free account with limited access to some features. However, these details and features may change over time. Choosing between tools is based on the features and your preferable user interfaces for each.
Bibliography
Buzan, T. (2006). Mind mapping. Pearson Education.
Crowe, M., & Sheppard, L. (2012). Mind mapping research methods. Quality & Quantity, 46(5), 1493-1504.
Summary
What are the Online Design Thinking Tools?
The online design thinking tools are web-based websites or mobile applications that help you brainstorm, collaborate with teams, and get feedback. These tools can help you to create collaborative activities such as:
Mural
Miro
Milanote
iMindMap
SpiderScribe
XMind
Coggle
Text2MindMap
MindMeister 
WiseMapping
Popplet
MindMap
Bubble.us