Exploring Human-Centered Innovation: NEST CASE STUDY
As RIBA's policy officer, Emillia Plotka stated, "Access to energy consumption data at a larger scale could help identify energy-use hotspots and point to areas that could benefit from community energy or retrofitting schemes.", a more need to innovation and creativity to build smarter homes and intelligent devices that can contribute to sustainability. Founded in 2010 by Apple's former engineers, Tony Fadell and Matt Rogers, the Palo Alto-based company NEST has innovated smart products such as the Learning Thermostat and Protect. These products have been remarkable with their ability to be programmed with information while also learning about user behavior and then use this data for automatic settings. The company started as a small startup of 16 employees working in a garage and then moved to their office elsewhere in Palo Alto with 70 employees. In early 2014, Google acquired the company for $3.2 billion.
The company's first product, Nest Thermostat, was introduced to the market in October 2011 and received attention from both media and scholars as it introduced the concept of machine learning. The Nest Thermostat is programed to generate a personalized heating and cooling schedule for home owners by promoting wireless and intelligent interaction between the owner and the different home devices while combining energy saving and comfort. Nest Thermostat contributed to saving around 1 billion kWh in the United States, which is enough to charge all the smart phones in the country for two years. In 2013, Nest Protect was introduced to the market as another intelligent device that can substitute for ordinary smoke alarms that are seen by the company's founder, Tony Fadell, as less usable and missing human-centered design guidelines. Nest Protect is designed to be more user-friendly and to communicate with Nest Thermostat to shut down possible sources of CO poisoning. Nest's latest product is the Nest Cam, which provides a surveillance remote system to monitor homes through wireless cameras that transmit views through mobile devices. It not only acts as a monitoring system, but also communicates with other people at home to chat or give orders.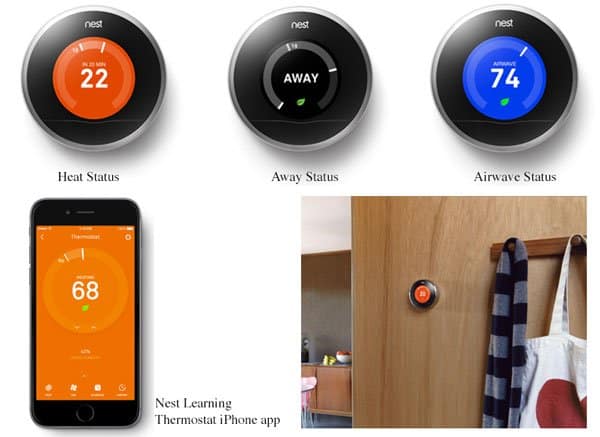 Web-based Surveys
Intensive research is required to build a solid understanding about the user experience of intelligent and adaptive home technology such as Nest devices. The research is required to study how users can adopt these devices in their daily life, use the device programmed interface, or even teach these devices about the user's preferred cooling and heating settings used by Nest Thermostats. Online surveys were implemented as one of the quantitative research methods to build understanding about Nest's market and to evaluate its impact to save energy and build a smart, user-friendly home experience. In comparison with a paper-based survey, the technology, demographic, and response rate for electronic surveys are more distinctive in the electronic surveys if five quality criteria being considered: survey design; sampling; selected participants; participant privacy; and confidentiality. Electronic surveys provides access to larger numbers of people through either email or web-based platforms and reduce the processing costs because it does not only collect data but also transforms the automated raw data into a computer-readable form.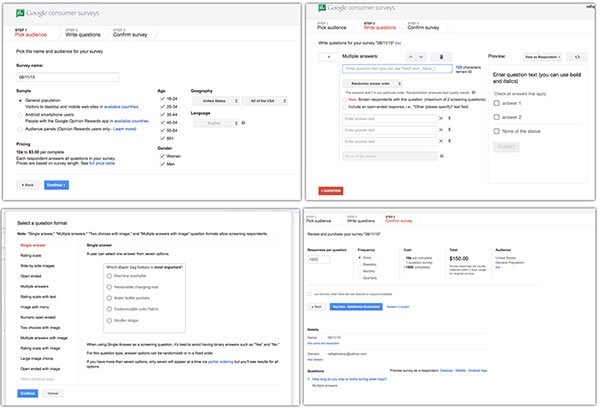 Online Surveys deliver Nest with the data required to develop new home solutions and improve existing products. In 2012, Google introduced Google Consumer Surveys, where both individuals and companies can build question-based surveys and use it to collect data from different visitors to the website. An affordable payment is charged from companies upon the completion of each survey. Results and data are collected in short time giving companies an affordable and quick method for market research to make decisions that affect the production process. Relevant survey responses are collected from websites subscripted to Google Consumer Surveys as publishers. Surveys are embedded to these websites, as the questions pop-up for the users to answer before continuing to access the website content, which publishers can implement as an option to a traditional payment system. Unlike other web-based survey services such as Survey Monkey, Google Consumer Surveys collects anonymous responses that are not linked to the respondent identity.
The analysis of data collected in the period between May 2012 and September 2013 from Nest Energy Partner program indicated average saving in southern California of  1.16 kWh per day or 11.3% of AC-related energy usage after the installation of Nest Learning Thermostat. The energy consumption during the peak time has been reduced by 0.10 kW from 2pm – 6pm on week days. Based on Nest website, the Nest Learning Thermostat reduces the heating and cooling bill by 20%. The energy has been reduced by 10-12% on heating and 15% on Cooling based on a study in 41 states in 2014.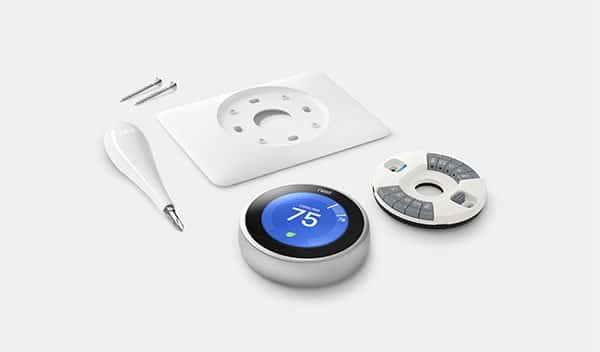 The energy saving using Nest Learning Thermostat depends on the number of family members and house size. The collected data indicated 14 % saving for a family of four members living in a house of 3,000 sq.ft. in Chicago when Nest learned the efficient temperate and automatically change the house temperature based on the season and the time of the day. While, a smaller family of two members living in a 1,500 sq.ft. Condo in Seattle was able to achieve 26% of energy, larger family of five member living in a smaller house of 2,000 sq.ft. was able to save 22% of their energy.
Email Survey
Based on the Nest White Paper (2015), evaluating Nest Learning Thermostat performance to save energy before and after installation depended on tools that Nest took over from MyEnergy after the acquisition of the company in 2013. These tools used to allow consumers to monitor energy usage on a monthly and yearly basis and compare the performance with friends' homes or homes in the neighborhood. This contributed to insights about energy usage patterns and energy savings achieved by consumer samples. This evaluation allowed for an impartial assessment of energy usage and saving by consumers and how these results affected their energy usage behavior.
The MyEnergy service has been provided as a sign-up option of the users who bought Nest Thermostat and who are interested in tracking and controlling their energy usage. Nest used the email survey as one of the research methods to evaluate the hypothesis that consumers who chose to sign up with the MyEnergy service are more conscious about energy usage comparing with the average Nest consumers. The email survey included the results collected from 657 MyEnergy customers and 763 other Nest customers who didn't sign up for the MyEnergy service.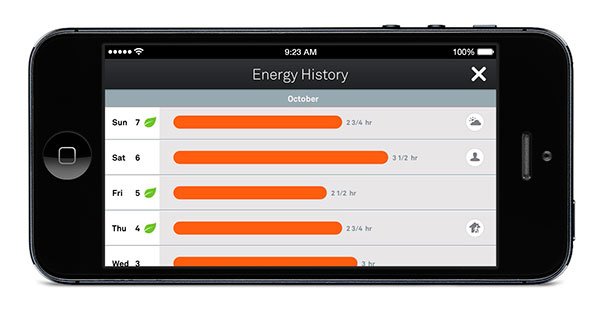 The survey results supported the hypothesis as MyEnergy customers reported to have more efficient set points before installing Nest Learning Thermostat comparing with the other Nest customers who did not sign up in the MyEnergy service. 74% of MyEnergy customers were more likely to have programmable thermostat and employ two and more set points per day comparing with the average Nest customers. MyEnegry customers are less like to have no setbacks before the installation of Nest thermostats with 10% as the results indicated that 26% of MyEnergy customers were less efficient comparing to 36% of other Nest customers. More information has been revealed about the Nest Device setting through the survey as MyEnergy customers are more likely to set lower average heating set point (66.2 F) comparing with other Nest customers (67.2 F) and higher average nigh setback (4.9 F) comparing to 4.0 F for the other Nest customers.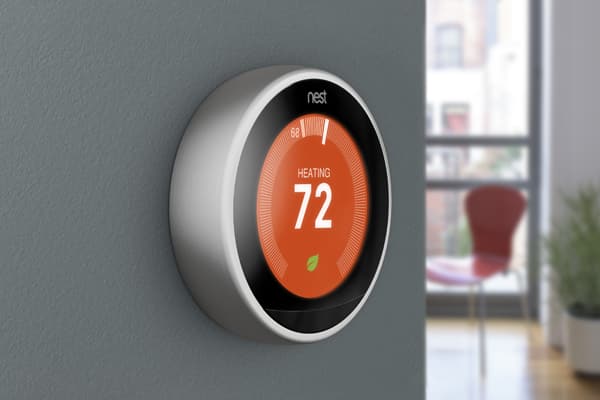 Detailed information about how MyEnergy customer and Nest customers who did not sign up in the MyEnergy service use the Nest Learning Thermostat to save energy through setting setback and set points have been identified through the email survey that focus on the sum of 1420 customers from both MyEnergy and Nest consumer database. While the email survey allows email push effect which can drive answers from specific sample of users or targeted number of customers, the web-based survey is used to pull effect to receive results from wider database that can involve both customers and non-customers based on specific demographic information setting to collect more generic information about the product such as the product setting, interface design, user experience, and price. Concerns about the product design and usability has been identified such as the complex user manual that users have to review before programming simple features, and the small icons and illegible screen that reduce the product usability. While concerns have been highlighted about the product price, which places it as a luxury item, the innovation behind Nest extends to contribute reducing the energy consumption during peek time through the Rush Hour Rewards and Seasonal Saving programs.
The implementation of both surveys contributed to collect information about how innovative products such as Nest Learning Thermostat can be used by both customers and potential customers in order to improve the product design and function to meet with the consumer expectations. Formatting the questions to target different segments of Nest customers and non-customers contributes building insight about the market either before the development phase or to improve the product for better user experience and energy saving.
Nest was produced as one of the innovative companies that depend on web-based survey to collect data about its consumers and understand the metrics of energy savings achieved before and after installing their Nest Learning Thermostat. The company depended on both web-based surveys and email surveys. Google Consumer Surveys was used as a web-based tool to collect data about Nest products, while the email surveys were used to compare between Nest regular consumers and consumers who subscribed to the MyEnegry service to track their energy consumption.