The Open Innovation Model's role in Fueling Creativity
Scholars, practitioners and business leaders have agreed that innovation and creativity is essential to sustain success and achieve competitive advantage in the present market. While our main focus here is on the creative industries, top companies in different niches have understood that they should "innovate or die." Many strategies have been adopted to achieve innovation inside the company with a holistic approach which does not only apply to production and/or services, but also in terms of business model innovation, process innovation, and technological innovation. The core of the innovation process is to feed the R&D department with creative ideas that can achieve success in the research stage and move to the production lines.
The traditional understanding to the innovation process has been limited inside the boundaries of the company. Firms have been applying the innovation process internally using ideas from company's employees dependent on the company's own resources and assets. This type of innovation is known as a closed innovation model. No external assets are used in the R&D process. However, this traditional form of innovation is faced with barriers that not only causes failure of processing creative ideas but also considers the innovation process as a resources consuming stage. Obstacles of innovation include but are not limited to high innovation costs, increasing product complexity and a short product lifecycle.
Related posts: 
What is Open Innovation Model?
In order to overcome the above obstacles, Dr. Henry Chesbrough, Executive Director, Center for Open Innovation, Haas School of Business, has introduced the open innovation model in his book Open Innovation: The New Imperative for Creating and Profiting from Technology as a paradigm that companies should use external ideas as well as internal and external paths to develop and market technologies. Both external and internal ideas flow to and within the company during the research stage. These ideas flow to the research-development tube in order to refine, modify and convert to a winning product. Companies can use the ideas inside their environment or push it outside based on the creativity level applied in the open innovation model. This will be discussed later.
"Open innovation is a paradigm that assumes that firms can and should use external ideas as well as internal ideas, and internal and external paths to market, as the firms look to advance their technology." Dr. Henry Chesbrough
Figure 1 below shows the difference between both closed and open innovation models. The top side displays the closed innovation model. The ideas are discovered inside the company without any external interference. On the other hand, the open innovation model represented in bottom figure implements ideas from both inside and outside the companies. These ideas are applied inside the company as a new product or shared with other companies in the market. The open innovation model aims to increase the mobility of the skilled workers, expanse the venture capital through investing in more innovative ideas, benefit from the unused technologies and build innovation collaboration with external partners.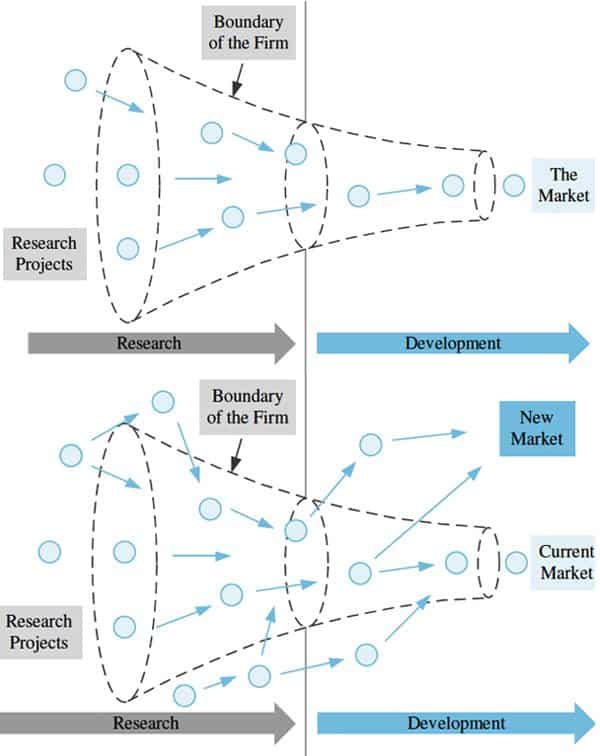 As the one business innovation expands the creative process outside the company's boundaries, innovation managers face challenges related to this type of strategies such as the following:
Able to communicate perfectly with creative people inside and outside the company.
Able to drive innovation inside and outside the company
Able to accept all types of ideas and people even outside the company.
Understand failure as an opportunity to learn
Closed vs Open Innovation Model
In order to have a clear understanding to the open innovation model. Six characteristics have been presented by Chesbrough (2006: xxvi) as following:
| Closed Innovation Model | Open Innovation Model |
| --- | --- |
| Most of the smart people in our field work for us | Not all the smart people work for us, so owe must find and tap into the knowledge and expertise of bright individuals outside our company |
| To profit from R&D, we must discover, develop and ship ourselves | External R&D can create significant value; internal R&D is needed to claim some portion of that value |
| If we discover it, we will get it to market first | We don't have to originate the research in order to profit from it |
| If we are the 1st to commercialize we will win | Building a better business model is better than getting to market first |
| If we create the most and the best ideas in the industry, we will win | If we make the best use of internal and external ideas, we will win |
| We should control our intellectual property (IP) so that our competitors don't profit from our ideas | We should profit from others' use of our IP, and we should buy others' IP whenever it advances our own business model |
Both the closed and the open innovation models indicates a strong correlation between research and development. Additionally, open innovation combines both short term financial interest and long term innovation requirements. One of the important advantages of applying the one innovation model is to gain financial advantages through the external knowledge that can contribute and by doing so reduce the internal investment in innovation.
Creativity levels in the Open Innovation Model
In the early stage of the R&D process, researchers are faced with questions related to innovation ideas such as "what should be innovated?" and "how should it be innovated?". These questions are a result of lack of ideas and creativity at the early stage of some projects. In order to answer such questions, the open innovation model presents three types of creativity levels: inbound creativity, outbound creativity, and coupled creativity (Liao et al, 2014).
Inbound creativity
When the creative team does know what to innovate, this tactic answers the question based on researching external resources such as customer feedback and needs in order to reach ideas that meet with the consumer needs and expectations. For example, Procter & Gamble developed an innovation model that depends on yearly research to identify the top 10 consumer needs. The R&D department uses the results of this research to innovate new products or upgrade existing ones.
Outbound creativity
Many innovation ideas fail to achieve success in an existing company business model. While these products are replaced with others, the failed projects are considered a loss in budget, time and effort. The open innovation model suggests that projects that fail inside the company's business model can find their way to success outside the company by marketing it with an innovative business model different from the currently implemented inside the company of origin. Exporting ideas to partners or spin-off the failed project as a new technology can help the company to overcome the innovation expenses.
Coupled creativity
While inbound creativity aims to import ideas and technologies from consumers and individuals, the coupled aims to build partnership that is used to collect information from the operating environment. This relation can be either formally or informally based. For example General Electrics established the Ecomagination Challenge model in 2010. This model aims to invite universities, NGOs, institutes and organizations to present ideas to create smart and efficient grid technologies. A committee evaluated ideas and the winner received a prize, investments or a commercial relationship.
Examples of Implementing Open Innovation
LEGO is one of the top leading companies in the toy making industry. It has a significant reputation with its innovative strategies on both the production and process levels. LEGO implements their innovative vision through assessing the existing opportunities, needs, and benefits for implementing open innovation in the company. LEGO established the LEGO Ideas project that aims to allow consumers to suggest new models. The winners receive 1% of the sales royalties. This open innovation model was a reason to release new movie products such as Big Bang Theory, Ghostbusters, and Back to the Future. LEGO's model follows the inbound creativity level of strategy. As it aims to receive ideas from consumers and individuals through LEGO Ideas website.
Another example is the P&G company products such as Swiffer Duster, TidePods, and Olay Regenerist. P&G wanted to develop a duster to advantage of its Swiffer mop project, but the prototype was not meeting with the company's expectations. The Japanese company, UniCharm developed a creative duster but with very limited market in Japan. P&G recognized the opportunity in UniCharm's duster. So, they licensed an agreement to deal with UniCharm and distribute the new duster in the whole world expect Japan. The result was millions of revenues for both companies.
Many examples have been provided for the implementation of the open innovation model based on different business strategies. Each of the open innovation types can be applied differently to reach successful innovation experience.
Conclusions
Innovation plays an essential role in a companies' success and market competency. However, the traditional closed innovation model can limit creativity and thwart finding new ideas inside the company boundaries. The open innovation model expands the creative capabilities inside the organization. The model can be applied based on three creativity levels aiming to source ideas and technologies based on inbound, outbound, and coupled models. Many companies have been implementing the three models to achieve innovation and market success.
References:
Simic, D. (2013) Applied Open Innovation – a Case Study Analysis based on Electric Drive Technology Projects in the Automotive Industry. Vienna: Austrian Institue of Technology
Chesbrough, H. and Vanhaverbeke, J. (2006) Open Innovation: A New Paradigm for Understanding Industrial Innovation. Open Innovation: Researching a New Paradigm, pp. 1–27.