Healthcare Technology Innovation: Opportunities and Challenges
Healthcare systems are facing more challenges than before. The increasing number of patients, especially with chronic diseases, pushes the health industry to innovative solutions, including adopting healthcare technology and medical innovation. This involves emerging technology in healthcare, such as wearable technology in healthcare, virtual appointments, and metaverse technology. Traditional clinical practice depends on an informed relationship between patients and clinicians. However, building patient-centric healthcare innovation is essential to producing successful healthcare innovation, and the products.
Related Articles:
Five Reasons to Utilise Patient-Centric Medical Innovation
Four Reasons to Expand Mobile Technology Usage in Medical Innovation
Nowadays, healthcare innovation has more extensive applications in the healthcare industry than before along with healthcare technology trends. This adoption extends to treatments, diagnosis, and monitoring of medical conditions. Health innovation presents one of the essential elements of the medical industry as it provides the opportunity for the healthcare system to overcome many of the challenges such as:
– Low medication adherence is wasting more than 50 % of healthcare costs for medications. This percentage increases to more than 60% in chronic disease
– Very long waiting lists for treatments and clinical appointments
– Missing appointments as patients forget their clinical appointments.
– Lack of professional staff, including clinicians and nursing
– Transportation barriers to and from hospitals and clinics
Healthcare innovation has a wide adoption of technology, including apps, websites, medical devices and others which can provide a solution for the above challenges. Yet, these challenges can't be addressed without a clear idea about patients' needs to build a patient-centric health technology.
What Are the Benefits of
Healthcare

Technology Innovation?

Shifting toward healthcare technology innovation can lead to several benefits for patients and the healthcare systems in many countries. The current rapidly increasing challenges result from increased pressure on these systems, especially in the UK and US. This pressure is represented in several areas:

Long waiting time and increased demand for hospital admissions: with the increasing number of patients and limited resources, the waiting lists only extend further and further. In the UK, cancer patients who received treatment within 62 days dropped from 88% in 2010 to %78 in 2019. In the same graph, the number of GP referrals increased from 15 million in 2010 to 40 million in 2019.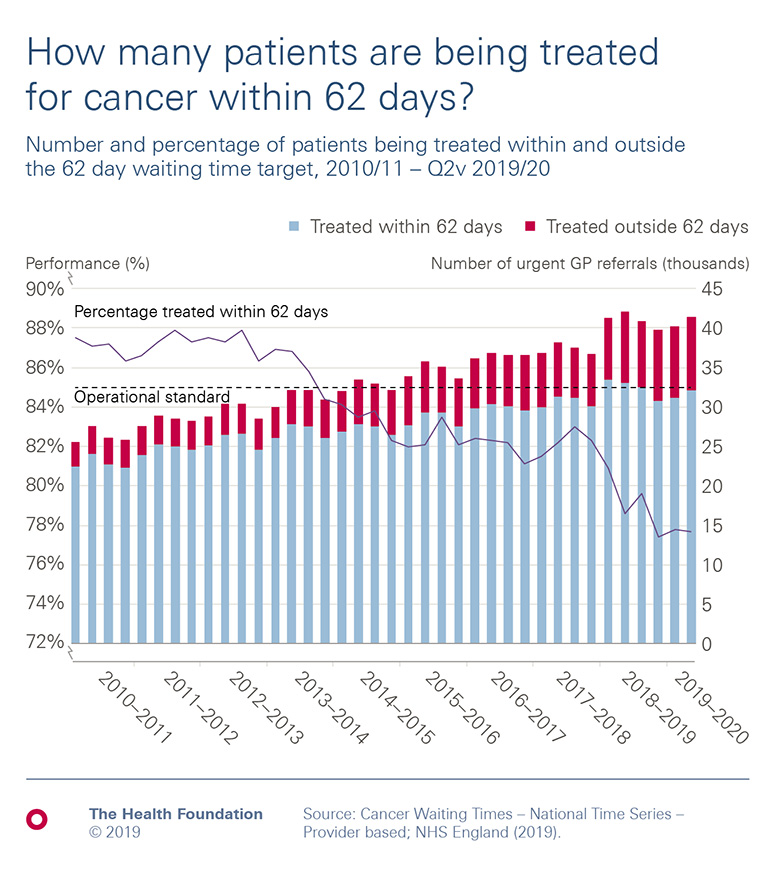 Increasing costs, funding requirements, and lack of staff: the increased number of patients has another impact as it requires a massive expansion in terms of costs, equipment and clinicians. In countries where the healthcare system is free for citizens, the funding is fixed while the expenditure is frequently increasing. As a result, the costs reach a limit where the income is not always lower than the expenses.
Many studies have indicated the benefits of adopting medical technology innovation, especially in chronic diseases where the cost of interventions runs over a long period compared with short-term health conditions. The general benefits of the healthcare technology innovation include:
Health technology reduces the dependency on pharmaceutical solutions, reducing the cost of the interventions, especially when treating chronic diseases.
Avoid surgical interventions as health technology can be used for non-invasive solutions. Reducing the required surgeries reduces the risk of infections and the psychological impact of hospital visits.
Additionally, the self-administered healthcare technology allows patients to get treatment, monitor and diagnose conditions without needing to visit clinicians or visit hospitals. The patient empowerment paradigm has more benefits, such as:
Reduces the number of visits to hospitals, reducing clinicians' workload and effort spent commuting to hospitals. As a result, the reduced visits reflect shorter waiting lists for the treatment.
Reduces the cost of treatment and assets required to hospitalise patients.
Health Technology Focuses on Patient Needs
Building healthcare technology solution involves a complex process in terms of the development process and regulations, especially if the solution target accreditation as a medical treatment or device. This process involves lots of procedures, time, and effort. However, the core value proposition in healthcare innovation focuses on patient needs and considering the patient's experience. This strategy may involve a deep investigation of the patients' needs and the opportunity to address these needs and provide a seamless patient experience.
In many previous articles, we explored how to address user (or consumer) needs through adopting a design thinking approach. The main idea behind different design thinking process models is to focus on user needs during each stage in the product development process. Below are a number of my previous articles overviewing the design thinking process:
Design Thinking Guide: What, Why and How
How to Successfully Apply the Inspiration in Design Thinking
Ideation in Design Thinking: Tools and Methods
Patient Empowerment through

Healthcare

Technology Design
The term patient empowerment appears in different publications to change the relationship between clinicians and patients. The patient alliance is also used to reflect this relationship. In this strategy, patients are educated about their condition, share their thoughts with doctors, and participate in decision-making.
Generally, health tech encourages patients to take action in to use the treatment and monitor it. For example, patients need to download a specific app or software to start the treatment. Along with this action, patients can see their progress to know what they are doing in their treatment regimen. Two examples are stress and anxiety. Patients with psychological conditions usually wait several months to check for psychological treatment. With emerging technology in healthcare such as mobile apps.
To solve this problem, one of the healthcare technology trends is Headspace, a mobile health app that can help patients start controlling their condition by using these apps and learn how to manage their conditions and control their treatment.
Patient Engagement and Healthcare Innovation
Even though many health tech solutions are patient-administrated (either entirely or partially), there is nothing like engagement with the patients. This relationship between the doctor and the patient can improve the patient experience over the treatment course. Communication between patients and doctor encourages the patients to continue with the treatment and share their expertise with their clinicians. Health technology allows the healthcare system to improve patient/clinician communication. Telemedicine emerging technology in healthcare can help patients communicate with doctors without needing to visit a clinic. These online appointments give more flexibility to deliver, share treatment progress and take actions based on the observed data.
One interesting example of telemedicine apps is my GP. The app provides the opportunity to take remote doctor appointments for the UK NHS health service. Patients can access their general practitioners (GPs) 24/7 and receive medication prescriptions delivered to nearby pharmacies. Telemedicine can provide solutions for healthcare problems, including long waiting for appointments and easy access for doctors without the need to commute to clinicians physically.
During my research, I developed a tool that helps consider different adherence factors when developing healthcare. The Adherence Canvas presents a tool to map various factors that affect patients' adherence to the treatment, including the communication factor between patients and clinicians. In self-administered treatment, patients can benefit from remote communication with clinicians. For example, they can receive reminders about their treatment intervention or have follow-up communication to ensure the intervention is appropriately used.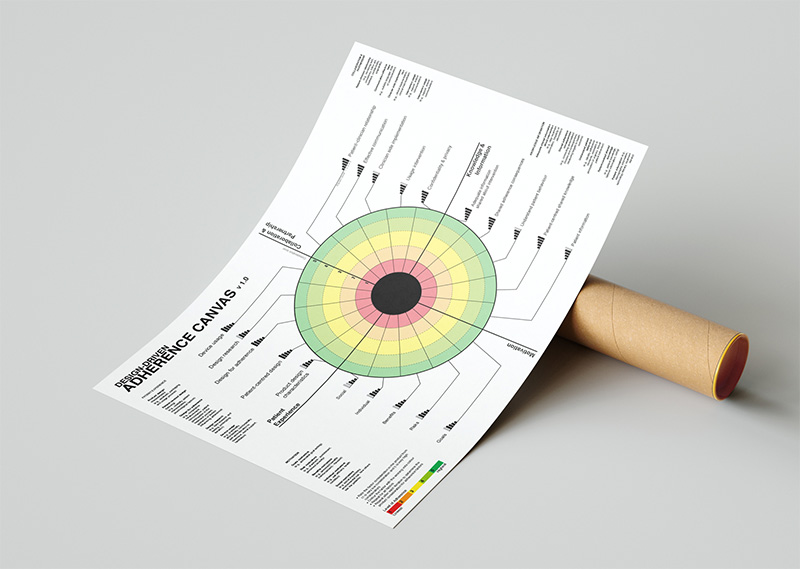 Consider
Service design

in Healthcare Technology Innovation

Product design is no longer enough to create value in the design world. Intangible service becomes an essential element when it comes to improving user experience. In medical innovation, service is one of the core components of the patient experience. You are not given a product when you visit a doctor and ask for a consultation. It is the service associated with it.

The service design in healthcare technology can vary based on the target problem and the intended solution. For example, one of the emerging technology in healthcare is Ada, an artificial-intelligent-based that aims AI to diagnose patients or provide a clue about their description.
The app asks some questions, and the patient answers these questions to narrow the diagnosis to the correct option.
Improving Healthcare Technology Design through Iteration
The core idea behind the lean or agile process is that it is impossible to have a final product from the first round of the product development process. Any product or service is a case of continuous improvement through getting patients' feedback and applying it to the health tech product. This constant process helps the health tech ensure meeting the patients' needs now and in the future. Many features can be used to get users' feedback, such as in-app feedback and communication with the patient via email, phone, social networks and others.
Healthcare innovation presents an excellent opportunity to solve many healthcare systems' challenges. Therefore, healthcare technology design should focus on patient-centric solutions. To this end, companies must consider some factors to achieve this goal. These factors include focusing on patient needs, empowering patients, engaging with them, and thinking about the solution as a service rather than a tangible product. Finally, answering patient feedback by continuously improving the health product to address their needs. Building patient-centric products require focusing on design factors such as creativity, embracing ambiguity, patient needs and product iteration. The Double Diamond Process is one of the design thinking process models that can contribute to addressing these design factors during the development of the healthcare product design.
Bibliography
Aldeer, M., Javanmard, M., & Martin, R. P. (2018). A review of medication adherence monitoring technologies. Applied System Innovation, 1(2), 14.
Appleby, J., Galea, A., & Murray, R. (2014). The NHS productivity challenge: Experience from the front line. London: The King's Fund.
Bosworth H., Granger B., Mendys P., Brindis R., Burkholder R., Czajkowski S., Daniel J., Ekman I., Ho MJohnson M., Kimmel S., Liu L., Musaus J., Shrank W., Buono E., Weiss K., Granger C. (2011). Medication adherence: A call for action. American Heart Journal, 162(3), 412–424.
Buchan, J., Charlesworth, A., Gershlick, B., & Seccombe, I. (2017). Rising pressure: the NHS workforce challenge. London: Health Foundation.
Scogin, F. R., Hanson, A., & Welsh, D. (2003). Self‐administered treatment in stepped‐care models of depression treatment. Journal of clinical psychology, 59(3), 341-349.
Smith, P., McKeon, A., Blunt, I., & Edwards, N. (2014). NHS hospitals under pressure: Trends in acute activity up to 2022. London: Nuffield Trust.
Viswanathan, M., Golin, C. E., Jones, C. D., Ashok, M., Blalock, S. J., Wines, R. C., Coker-Schwimmer, E., L. Rosen, D., Sista, P., N. Lohr, K. (2012). Interventions to improve adherence to self-administered medications for chronic diseases in the United States: a systematic review. Annals of internal medicine, 157(11), 785-795.
Wilson, T., Buck, D., & Ham, C. (2005). Rising to the challenge: will the NHS support people with long term conditions?. Bmj, 330(7492), 657-661.
Summary
How to develop patient-centred healthcare technology?
Focuses on patient needs
Patient empowerment
Patient involvement
Consider service design
Prototype iteration and improvement
What are the problems with the healthcare systems?
Increasing costs and funding requirements
Long waiting time and increased demand for hospital admissions
Lack of staff and clinicians
Lack of resources and assets



What are the benefits of technology in healthcare?

Reduce the load on clinicians
Reduce long waiting lists
Reduce medication costs and achieve economic benefits
Avoid surgical intervention with effective non-invasive solutions
Reduce the risk of infection and psychological impact of the hospital visits
Reduce the hospital trips for patients