5 Steps to Turn Your Creativity into a Successful Design Business
In today's challenging economy, it's harder to get a job as a designer in a company. Therefore, I tell my students to open their minds to different business models that they can conquer using their talent and education in design, such as working as a freelance designer or establishing design start-ups. Many of today's big companies, such as Google, LinkedIn, Facebook, IKEA, and Lego, started as start-ups or individual businesses. However, the majority of design schools lack the education of design business and how to think in design from a business and managerial perspective, which reflects on the students' acquired skills. Many designers who attempted to start their own businesses failed due to business-related factors rather than design or creative-related factors.
Navigate through design websites such as Coroflot, Behance, and others. There are thousands of prototypes and creative ideas that never leave the studio to transform into a real product. Many factors involve a design failure or an inability to see the light as a product that drive profits for their owners. Observing these experiments and projects, we can highlight five points that can contribute to converting design talent—or even a hobby—into a successful business as described below.
Step 1: Think of it as a Business
The moment you start to think about building your own design business as a freelancer or a start-up, you are taking yourself from being a designer and putting yourself in the shoes of a businessman or a manager analyzing your business. At this point, the ideas you fall in love with while doing your creative art of design project will be seen from a totally different perspective. You will start to judge the ideas from a pure business and innovation point of view to determine if they if they are marketable or not.
You need to analyze the market, observe other competitors or potential competitors, and learn about their products, branding, and how they sell these products to their consumers. Ask yourself questions. Is it a good product? Is it easy to use? This will let you build empathic understanding for the similar product. Then, you need to put together ideas about the characteristics of your business. While many designers don't have business education as highlighted earlier, there are handy tools that allow you to visualize your business, such as the Business Canvas Model we highlighted in a previous article, Download Our Free Business Model Canvas Template.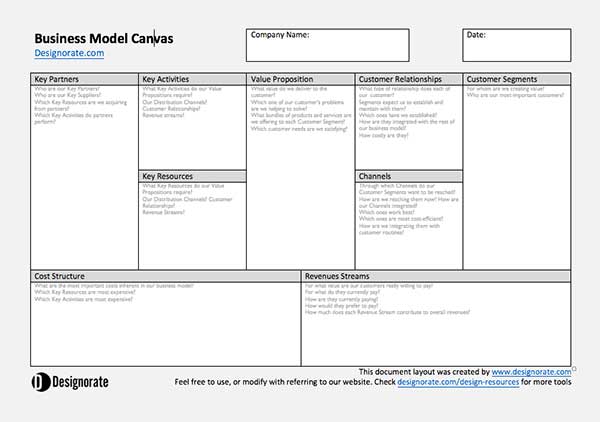 This tool allows you to analyze your business or build its characteristics based on the target consumer segment, proposed value, marketing channels, communication with the consumer, suggested revenue stream, cost structure, and others.
Step 2: Brand Your Business
Once you build a business plan for your design business, this plan should reflect on the product or the business identity through a unique and representative brand. While many design schools teach branding, this can be a strong point for designers if they can implement it to support their business. The brand reflects not only on the visual elements, such as logos and business identity, but it also determines the characteristics of the marketing plan used to advertise and promote the business through the suggested channel in the business canvas above.
At this stage, your design skills merge with your understanding of the market and the business in order to form a brand that can stand out of the crowd and describe your business to consumers.
Step 3: Choose a Design Process to Follow
In order to market a successful product, consumers should be placed in the heart of the development process. This can't be achieved without a design process that ensures that consumers are targeted during every stage of the development process, starting from initiating the idea, building the prototype, and moving to delivering the product and collecting feedback from the consumer. Companies like Apple, IBM, IKEA, and others tend to adopt design thinking process models to achieve this goal. The good news is that these models can be deployed in different sized companies, including your own start-up.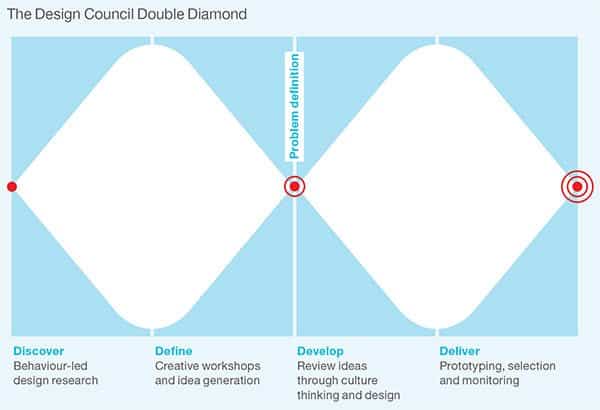 There are many design thinking process models to use in your business, including the Stanford d.School design thinking model, Design Council double diamond model, and recently, IBM stablished their very easy to learn and adopt model that we covered here: IBM Design Thinking Model: A Shift Toward Big Enterprises. Most design process models follow general characteristics to organize the flow of the development process around consumer needs and expectations. You need to choose the model that suits your business scale and plan.
Step 4: Find Funding for Your Business
One of the major challenging barriers facing designers when they start thinking about their own business is how they are going to fund it and cover the costs related to production, marketing, and HR. In recent years, many funding models have been presented as solutions for start-ups and small companies to fund their innovative projects, such as crowd-funding websites like Kickstarter, angel investment, business incubators, venture capital, and others. You can find details about each funding model in 8 Tips to Finance Your Design Business.
During business model development, designers need to determine the funding resources for their business. Each resource may fit a specific business rather than the other. Some models are easier to afford, such as Kickstarter crowd-funding and loans, while it may be hard to find a local investor or build a successful partnership.
Step 5: Build a Reliable Team
In competing markets, it is no longer an option to work alone unless you have the business qualifications, including assets, experience, and talent. Many designers may lack the talent to manage a business themselves or to do specific tasks such as marketing and business relationships. You can easily fulfill this need by hiring the right team in your start-up. The team may work based on a preset salary or as part of a partnership. However, it is important to find the right team members to join your league. You may also need an IT team for your business, the managed IT services in Charlotte is ready to be part of your team.
You can search between your friends, local communities, or even through online freelance websites to build a team that can help you fulfill the experience required to start a successful business. For example, if you are a good designer with no experience in coding, you can easily hire a developer to handle this part of the development or you can learn coding yourself with the help of resources such as data science pdfs and the like.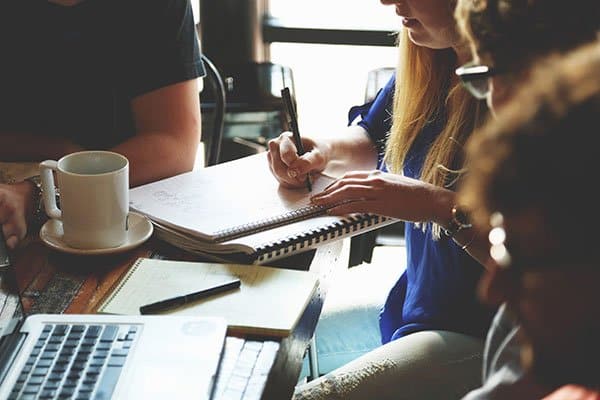 In sum, it isn't easy to find a design job in this current economy, but you can start your own business as a freelance designer or run a design company if you know the right tools for building a successful business. While most design schools lack the education of the business side of design, observing both successful and failed companies teaches us lessons and inspires us to take steps to creating a design business. These steps include building a business plan, building a business band, relaying on a design process, finding project funding, and depending on a reliable team. Achieving these steps can contribute to leading your business to success, even if you don't have previous business experience or education.