Five Product Design Ideas for Better Human Life
In the 21st century, the role of design to solve social problems has become more and more important. With the increasing issues and challenges in our daily lives, a successful human-centered design process tends to put human beings at the core of product development in order to solve their existing and future problems. However, we see many problems that are still present, waiting for solutions to be solved—problems related to the environmental impact of humans' irrational usage of natural resources, and problems related to poverty and lack of basic resources. Sustainable design and social innovation products tend to address these needs through designing products that target problems facing massive numbers of people, such as the water contamination, carbon emission, food waste, and others.
Large design and innovation companies like IDEO tend to investigate these problems and provide creative yet simple and affordable solutions. Other design research studios provide solutions for these problems from their point of view. The increasing number of attempts to solve problems fuels the innovation process through experiments and investigating problems from different perspectives. Below are five example of innovative products that aim to solve human and environmental problems by providing products that are simple, affordable, and helpful for people.
Aqua-Pak Solar Water Pasteurizer
As the diseases caused by unclean water are very common in developing countries, more than one billion people live without access to pure water, and more than 6,000 children die every day from drinking contaminated water. The need for a handy, affordable method to purify water becomes a must for every home and village, especially in places where there is no purification system installed in rural areas. Aqua-Pak is a affordable bag that can store water and biologically purify it through pasteurization using the sun's heat. The water stored in the bag is heated to a temperature that kills germs, parasites, and viruses.
A product that you can use at home to keep the water clean is the whole house water filter that will eliminate all the contamination.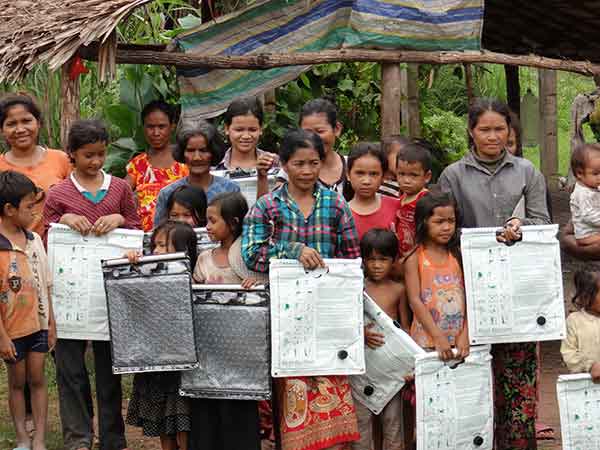 The bag was developed by Solar Solutions and was designed with the unit cost in mind. It can be manufactured in developing country for less than $2.00 per unit, which is considered one of the cheapest products in terms of using solar energy. Solar Solutions is attempting to build an entrepreneur network trained to create the same products and make them available for people living in rural areas. The product is recognized by the World Health Organization, and it is tested on mass production level.
Hippo Water Roller
Another product design that focuses on the water problem is the Hippo Water Roller. Women and children in developing countries spend an estimated 140 millions hours to collect clean water every day. This time is spent walking 2 to 10 km to reach pure water, which may take three to nine hours every day. Along with this suffering, carrying water all this distance is causing serious neck spinal damage and injuries. The Hippo Water Roller was created in 1991 by two South Africans, Pettie Petzer and Johan Jonker, who have seen how women and children suffer to get clean water. The project was tested as a pilot in 1994 in South Africa and was endorsed by former president Nelson Mandela.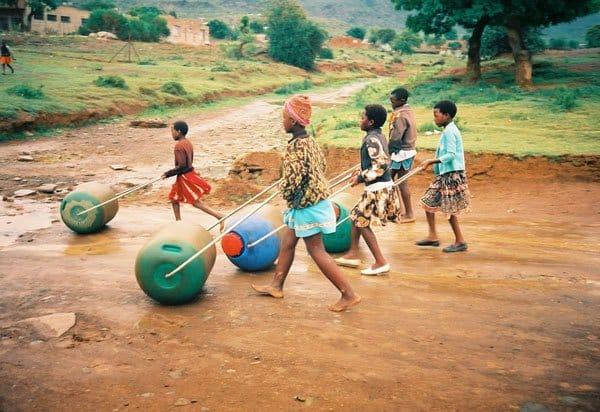 The Hippo Water Roller allows women to transport up to five times more water than the traditional method without the need to carry the water on their heads. The Hippo Roller is also supported with a filter cap that filters the water to ensure that the water stored in the roller is pure. The product has a lifespan of at least five to seven years. In September 2015, around 46,000 Hippo rollers have been distributed among 20 countries serving 300,000 people. The current production cost per unit is $90.
BoGo Solar Powered Flashlight
In the field of energy, many houses located in developing countries and rural areas lack access to electricity or stable electricity. SunLight Solar developed the BoGo Light as a LED flashlight with built-in solar pens that use the sunlight to charge the flashlight battery and give light for eight continuous hours. The BoGo light is available in two models: SL-1, which is the traditional flashlight, and the SL-2, which comes with more features like light levels, a printed circuit, an added boost converter, and an additional transistor per LED.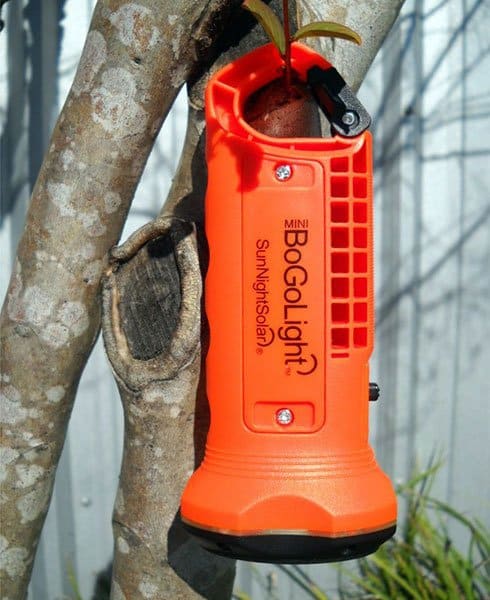 The business model provided by SunLight Solar encourages consumers to donate BoGo Lights, as they can purchase the flashlight for $39 or donate one for $28.
BCK Solar Cooker
Cooking in rural areas using traditional wood and charcoal fuel increases the amount of carbon emissions, and the produced smoke is a high risk on human health. More than 1.5 deaths per year are caused by acute respiratory infections from indoor cook fires. In 2007, the Red Dot Nawar winning product, the BCK Solar Cooker, was introduced as an easy, green solution to cook based on solar energy. It uses a solar shield that reflects the sun's rays into he center, which can be heated up to 90 degrees Celsius. The center unit can be used to cook food such as rice and pasta, and it also can be used to purify water by killing germs and microbes under this temperature.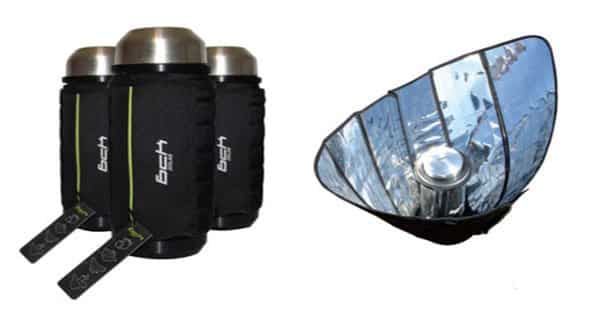 The BCK Solar Cooker can be easily transported, as it is 250 mm in height and 130 mm in diameter. It can be also carried in a backpack, which makes it useful for camping and mountain expedition tours. The product is still in the prototype stage, and it is developed by
NatureMill
One of the challenging problems facing every house is waste and how to manage it to reduce environmental impact. The NatureMill allows every home to turn organic food waste into compost through a smart trashcan that is self-contained, odor-free, and automatic. The food can be added to the NatureMill where it is mixed, heated, and moistened every four hours. A carbon filter is used to remove the odor. The resulting composite is moved to the bottom tray where it can be taken and used as a rich soil for home gardens.
https://www.youtube.com/watch?v=Fly1WI6qOUE
The decomposition process takes around two weeks without any attention required by the homeowner. The unit recycles its weight of waste every 10 days and doesn't consume energy. NatureMill is available for purchase online with different colors and models for a price that ranges from $299 to $399.
The above products provide an example of how design and innovation can provide solutions for social problems through a deep understanding to their needs and analyzing problems in their current locations. Most of these products are tested and used by people to validate their feasibility. These products provide an example of perfect human-centered design that aims to to put the consumer at the heart of the design process. If you see a product that is worth sharing, feel free to share with us. Please provide the product name and a link in the comments below.